The recent UK floods have come at just the right time to focus attention on the need for a decision over the Statement of Principles, which ends next month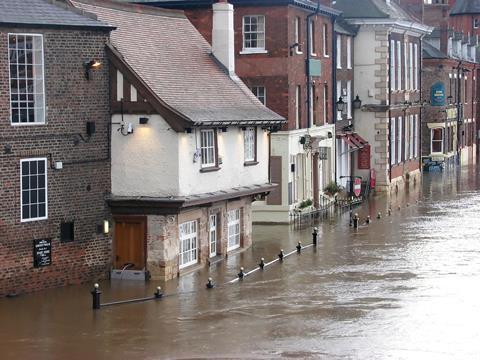 Last week the Environment Agency issued dozens of flood alerts as torrential downpours made it the wettest April since records began.
The threat of flooding has come at just the right time to focus the government's mind on what it will do when the Statement of Principles, a blueprint for insurers and the government to tackle flooding, comes to an end in just over a year's time.
The Statement of Principles dates back to an agreement in 2000. The statement agreed that insurers would provide affordable flood insurance for homes and small businesses, provided the government spent money on reducing the overall risk by building flood defences.
The ABI has been pressing Defra for 15 months or so and I don't think we're any closer on what they're willing to support'

Barry Smith, ABI property committee chairman
The only properties not covered by the agreement are those with more than a 1.3% or 1 in 75 chance of flooding every year, and homes built since the start of 2009.
The statement was renewed in July 2008, and will expire in June 2013. The ABI does not want to renew the statement.
The ABI has argued that it distorts the market, as homes in low flood-risk areas end up paying, through higher premiums, for homes in flood-prone locations.
Meanwhile, insurers are concerned that the government, making cuts as part of its deficit reduction programme, is not spending enough on flood defences and that this trend would continue under a renewed statement of principles.
Insurer of last resort
With few options left, the insurance industry drew up two proposals designed to replace the statement of principles. Both of these have been put forward for the government to consider as a plan to tackle flooding.
The ABI's proposal, Flood Re, would see household insurers contribute via a levy to a fund to be paid out after flooding. The government would act as an insurer of last resort for areas hit by extreme flood damage, and would also fund flood defences for risky areas.
Marsh's proposal, Project Noah, would have UK insurers pooling their flood risks and ceding the bulk of them to global reinsurers.
The Marsh and ABI proposals were often seen as rivals, but recently ABI property committee chairman and Ageas chief executive Barry Smith called for further talks to see if the two could be blended to form one solution. This was a significant change of direction for the ABI, as members of the trade body had previously snubbed Marsh's proposal.
The issue also affects brokers. Biba head of corporate affairs Graeme Trudgill says brokers could lose business if they have trouble offering flood insurance. "If they can't offer protection for that customer's property from flood, then they are going to go elsewhere," he warns.
Few hints on next move
The industry is still waiting for a response from the Department for Environment, Food and Rural Affairs (Defra). Last December it promised to give more details on the future of flood insurance by the spring of 2012. But it has still not made an announcement, and has given very few hints on what its next move will be.
This delay has irritated the ABI, insurance brokers and local government. In February, Smith said: "The ABI has been pressing Defra for 15 months or so and, to be perfectly frank, I don't think we're any closer on what they're willing to support. We are pretty frustrated at the slow process and the uncertainty and ambiguity from certain parties, including Defra."
So what will the future of flood insurance be? Rumblings from Defra in March hinted that government- subsidised premiums would not go down well with the cash-strapped administration. But it has not ruled out the idea, which has been backed by influential politicians such as former justice secretary Jack Straw.
Despite the delay, Smith says Defra is taking the issue seriously and wants to find a solution. Some well-placed sources believe it might make an announcement at the end of this month, when flood minister Carol Spelman speaks at the ABI Property Conference on 22 May. If the wet weather continues, by that time many towns in the UK could be submerged in water.
We say …
● Defra has kept the industry waiting long enough. Making a decision soon is in the best interests of the government, insurers and policyholders.
● Any decision Defra comes to needs to accommodate flood risk to properties built after 2009, which are not automatically covered under the current agreement. The department also needs to review the amount it spends on flood defences after it cut spending earlier this year.