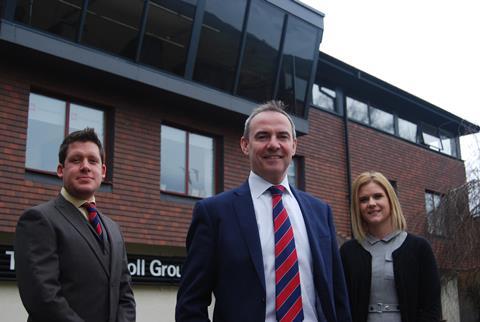 Broking and advisory group Thomas Carroll has bought commercial insurance broker Monmouthshire Insurance Services (MIS) for an undisclosed sum.
MIS, a subsidiary of Monmouthshire Building Society Group, sells a range of commercial insurance products, including shop, office, restaurant and vehicle and fleet cover.
MIS's Tracey George (pictured right) and account executive Peter Tompkins (pictured left) will move over to Thomas Carroll.
The deal follows a strategic review of operations by Monmouth Building Society Group.
Thomas Carroll chief executive Rhys Thomas (pictured centre) said: "We service our loyal clients across Newport and Monmouthshire through to our office in Hereford, in addition to our offices in Caerphilly, Swansea, Pembrokeshire and London. The acquisition will ensure the same high levels of ongoing support and expert industry knowledge that their customer base have come to expect."
Monmouthshire Building Society finance director Will Carroll added: "Monmouthshire Insurance Services is an established commercial insurance business and it's extremely important to know that its valued customers will be served by such a trusted organisation as Thomas Carroll."