6 March is the last day for submitting your entry to the Insurance Times Claims Excellence Awards. Get your entry in now!

Time is running out to submit your entry for the Insurance Times Claims Excellence Awards.
Last date for entries is 6 March.
Be a key part of the celebrations of the best in claims in 2017.
Showcase for the industry your expertise, your experience, your technology and your efficiency,
Display new ways and new approaches to handling claims large and small.
Have you developed new and more efficient ways for customers to submit claims?
Have you streamlined processes or introduced new technology to speed up claims settlement.
Have you introduced artificial intelligence that can triage claims and root out fraud?
We'd like to hear all your stories and showcase them at the gala awards night for the Insurance Times Claims Excellence Awards.
Judges for the awards have now been announced.
They include: Steve Molloy, director of commercial sales at Accident Exchange; Chris Milward, head of claims at Arag; Helen Withers, managing director of Arc Legal Assistance; Martin Ashfield, property and lifestyle claims director at AXA Insurance; Donna Scully, director of Carpenters; Alison Gamble, technical marketing manager at CILA; Garry Simmons, head of HNW and commercial claims at Covéa Insurance; Clive Nicholls, chief executive office, UK & Ireland for Crawford; David Aiston, head of global specialty markets for Cunningham Lindsay; Dan Saulter, chief executive of Davies Group; David Bonehill, claims director, Ecclesiastical; Bundeep Rangar of Premfina; Dave Greaves of QBE; James Gilmour of Simply Business; and Katrina Beckwith of Optal.
Here's what some past winners said about winning Claims Excellence Awards:
Garry Gallen, chief executive, rradar
"We're delighted to have won this award – it recognises the truly innovative and ground-breaking service that rradar delivers day in, day out. It's a great achievement that is powered by the hard work and commitment of everyone in the company. We have a lot more in the pipeline and 2018's going to be another very special year for us."
Hilary Ball, marketing manager at Coplus: Third Party Claims Management Team of the Year
"We were absolutely delighted to win Third Party Claims Management Team of the Year at the Claims Excellence Awards in 2017. To be recognised by Insurance Times, a well-known and well-regarded name in the insurance industry has been a great boost for our brand awareness. We proudly display our trophy at our office and take it into all new client meetings!"
Andrew Moore, director of pet claims at RSA: Insurer Claims Initiative of the Year - Personal Lines
"Winning was a tremendous accolade for our team and our partners. The RSA Referral Vet Network is a collaboration between ourselves, our customers and our Partner Vets. Public recognition for this industry first has encouraged us to work harder to make the network even better for our customers."
Victoria Romero-Trigo, director at Club Insure: Claims Training Initiative of the Year
"Training for our staff and customers is something we take seriously at Club Insure so to be recognised at industry level for this was a real achievement for us, we as a business continue to evolve and to ensure we all grow and evolve together, training and development is key."
Elliot Roberts (below, left), product management director at Audatex: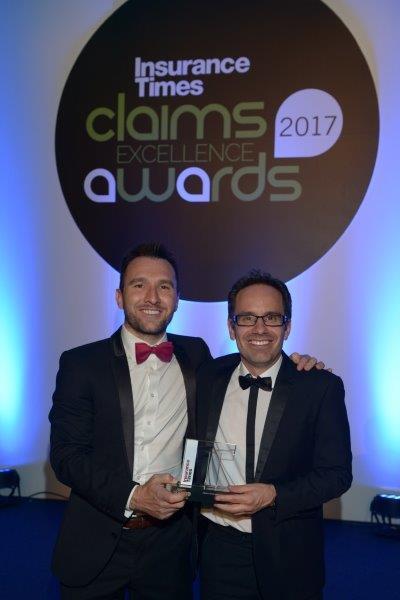 Claims Technology Initiative of the Year 2017
"We were thrilled to win Claims Technology Initiative of the Year 2017 and receive recognition from the industry for Quantex, our claims subrogation portal. Quantex provides a seamless, data-driven, digital platform for insurers to effectively settle claims between one another. We are constantly striving to find new ways to solve the issues and challenges faced by the insurance industry, and will be entering the Awards again this year with our latest technology solution."
Andrew Morrish, motor claims director, Aviva: Insurer Claims Team of the Year
"This is great recognition for Aviva's Claims team - this was not just one of the largest operational transformations we've led in Aviva, but the first time we've built a large-scale operation from scratch on System Thinking principles. We really value the Awards, which provide special recognition for the team's fantastic achievement."
Mark Merrix, head of casualty claims at Allianz Insurance: Claims Individual of the of the Year
"It was a really proud moment to win the claims individual of the of the year award in 2017, whilst this may have been an individual award it could not have been achieved without all of the efforts of my team. I was really pleased to be able to share the success with everyone at Allianz who had helped and supported me during the year."
James Gilmour (right), head of claims at Simply Business: Claims Technology Initiative of the Year – Broker
"We are delighted to have won Claims Technology Initiative of the Year based on the production and successful rollout of SME Mi Claim, which is ground-breaking in the claims industry and something that Simply Business customers had been crying out for. Over 50% of our customers use SME Mi Claim and we have seen a significant drop in inbound calls as a result, with customers more empowered to progress their claim."
Paul Field, claims director at Centor: Broker Claims Team of the Year
"We were delighted to win this award – our claims service is central to our customer proposition and to have this recognised by the judges was extremely rewarding. Our team were very proud of their achievement and very motivated by the accolade."
Tony Emms, director of Vine Grove Ltd: Lifetime Achievement Award
"It was a complete shock, but fantastic to receive such an accolade from my peer group. After the initial shock I had a sense of feeling quite humbled but at the same time very proud. It's a great award to be able to refer to in discussion, and I feel it adds to my market position as a member of an 'elite' group of people
Over the years I've always done what I feel is the right thing to do for all involved and an important part of that is to develop talent for the future of our profession. Hopefully, I've been able to help many people in this way. Recognition for that is not something I'd ever expect, but it was nice that it was."