Brokers given advice on conflicts of interest by top law firm
Brokers should check their conflicts of interest risks approach in the wake of the Bluefin fine, a top law firm said today.
Pinsent Masons regulatory expert Jonathan Cavill said the Bluefin fine shows conflicts of interest remains a 'priority area for the FCA'.
He said it is not just brokers owned by a parent who should assess their conflicts.
The full details of the shocking culture that gripped Bluefin have emerged from the FCA's final notice - and some brokers feel it is a gamechanger which should lead to fees being used instead of commissions.
Subscribers read more
Briefing: Bluefin scandal is the tip of the iceberg - Brokers should be worried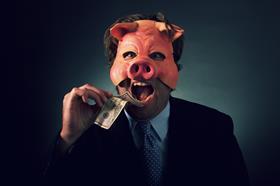 "Brokers are often faced with a potentially risky conflict of interest situation; some of these involve the parent who owns it, and some do not," Cavill said, contentious regulatory expert at international law firm Pinsent Masons.
"The relevance of this fine is not isolated simply to where brokers are owned by an insurer or provide misleading information.
"Coupled with the upcoming rules in the Insurance Distribution Directive on disclosure of broker shareholdings to clients, the fine reinforces the need for brokers to properly assess their conflict of interest risks and ensure that they are on the right side of the line with the regulator."
According to the FCA final notice reported on by Insurance Times, the regulator highlighted issues Bluefin brokers had placing business with AXA and, importantly, other preferred insurers offering higher commissions.
The FCA found that one broker placed business with a preferred insurer (one that was not AXA) and 'did not consider the transfer was ideal but carried an opportunity for significantly higher commission'.
The Bluefin compliance officer noted that the staff felt 'under pressure' and 'not comfortable' with the placement.
In the wake of these issues found by the FCA and the Bluefin fine, Cavill pointed to the regulatory documenation brokers must examine in assessing their conflicts.
"The FCA's rules in SYSC10 and the PRIN Handbook make it clear how firms should be handling conflict of interests," he said.
"We have seen some fairly substantial conflict of interest fines from the regulator in the last few years - one almost as high as £20,000,000 - but this fine is unique in that the FCA not only found that Bluefin did not manage its conflicts of interest properly, but also, crucially, that it misled customers in the documentation provided to them; Bluefin held itself out as being 'truly independent', despite, as the FCA found, knowing the conflict of interest risk."
The FCA is ramping up pressure on brokers over conflicts issues as it aims to root out rogue brokers such as Bluefin and uncover what is happening in the London market.