Insurers want brokers to demonstrate the value they add, and creating innovative new products is one way for brokers to stay relevant – if insurers will back them

With organic growth increasingly difficult to find, competition increasing and insurers investing more in their direct businesses, the big challenge for brokers is to stay relevant to both clients and insurers.
This was the message from the first Broker 50 event of the year. Chief executives from some of the UK's most prominent brokers gathered with representatives from sponsors Aviva, Enterprise Rent-A-Car, Idex and LV=at the Pennyhill Park Hotel in Surrey in early March to discuss the biggest issues in broking.
As well as occasional glimpses of the England rugby team, who were training in the grounds, Broker 50 delegates were also treated to a presentation by social media-enabled broker Bought By Many, an analysis of mergers and acquisitions trends by Fenchurch Advisory and Lloyds Bank, and an after-dinner speech by former Labour cabinet minister Lord David Blunkett.
But the central theme for the day's main broker panel discussion was how brokers can stay ahead of the game.
Insurers want brokers to show how they are different, and how they are bringing something to the transaction.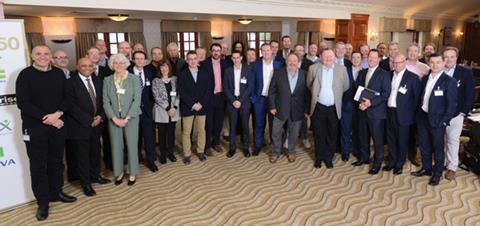 Vulnerability
The insurance industry is ripe for disruption.
The money both brokers and insurers spend on distributing their products accounts for a big chunk of the premium brought in. These high distribution costs provide a way in for new companies who think they can do it cheaper than the traditional model.
Creating new and innovative products is one way brokers can maintain their relevance. But this is easier said than done. Even if they are able to come up with a new specialist scheme, insurers, particularly larger ones, are often reluctant to write the business.
Solvency II excuse
Solvency II, which came into force on 1 January this year, has been used as a reason for insurers' conservative approach to new products, but some feel insurers have used the new capital regime as an excuse.
One way brokers are tackling the apparent lack of capacity support from major players is by setting up managing general agencies to control the product design and find willing underwriting capacity.
Some of that capacity is coming from global reinsurers, that are fighting heavy competition and price-cutting in their own market and seeking returns elsewhere.
Technology is key
Technology is also part of the answer. More and more brokers are investing in technologies such as real-time pricing and data enrichment so they can understand customers better, and have a better grasp of the risks they pass on to insurers.
At the same time as trying to stay relevant, brokers also continue to grapple with the challenge of regulation.
FCA attention
While the volume of broker-related thematic reviews conducted by the FCA has tailed off, the regulator is still paying a lot of attention to how brokers sell products, in particular add-ons.
On top of this, commercial brokers, whose income is closely tied to the economy, are bracing themselves for what will happen if the UK votes to leave the EU. Some feel the uncertainty about the UK's membership has already hit economic growth.
Despite the challenges, brokers are largely upbeat about the future. Clients still need risk advice and brokers have strong client relationships and understanding that make them invaluable to insurers.
As one delegate pointed out, the demise of the insurance broker has been predicted many times, but so far the predictions have turned out to be incorrect.