The on-boarding process for the new flood risk pool is beginning, but is it fit for purpose and how far has the insurance industry gone in preparing for its implementation?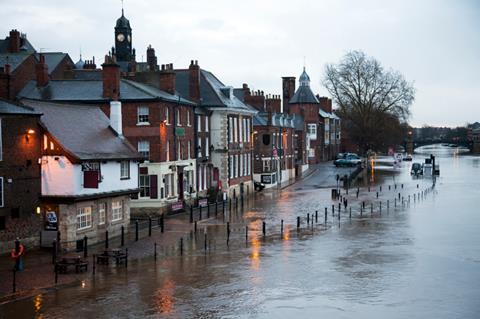 Flood Re was conceived when the ABI Statement of Principles – the mutual agreement to offer households affordable home insurance even if at high risk of flood – ended in Summer 2013. When it expired there was well-founded concern that some properties were unable to access affordable cover.
Three years in the making and due to be introduced in April 2016, Flood Re is a not-for-profit reinsurance fund managed by the insurance industry and funded from a levy equivalent to £10.50 a year on home insurance policies.
Last month, insurers and brokers were invited to test their systems and processes with Flood Re.
But research suggests the industry is far from ready: 70% of respondents to a survey by EY said that while progress had been made, there are still key areas to be addressed, while another 40% are in the early stages of planning for Flood Re.
This is backed up by Insurance Times's own research: none of this month's survey respondents had begun the on-boarding process.
Under Flood Re, about 350,000 homes in the most flood-prone areas will gain access to more affordable flood cover. But while the scheme will offer a solution to unaffordable flood risk premiums, those that do not qualify could see their premiums rise or be unable to obtain cover at all.
Uncertainty
Question marks remain about the scheme, including its exclusion of small businesses.
In December 2014, Flood Re was expanded to include council tax Band H – the most expensive properties. But it stopped short of including cover for SMEs, such as bed and breakfast premises and landlords.
"The Flood Re draft regulations cause fresh uncertainty for the one in 10 small businesses at risk of flooding," says Federation of Small Businesses national chairman John Allan.
"Many small firms already find it difficult to find flooding insurance, with up to 50,000 businesses potentially affected."
Biba is talking to members about how to accommodate those excluded from the scheme. Biba corporate affairs manager Andy Thornley says: "Flood risk is quite a difficult one to face – the amount paid for an average domestic property claim is upwards of £30,000 – but we're confident brokers can step in and cover those who fall outside of the scope of Flood Re.
"Specialist flood brokers have an understanding of the risk in the market and perhaps have the pen to be able to write cover," he adds.
"Perhaps they can take into account other circumstances or local flood alleviation measures.
"So while there may be a concern that premiums will go up or cover won't be available, that's precisely where a broker can step in and prove why brokers are not just great in terms of general insurance; but specifically for these risks that are hard to place."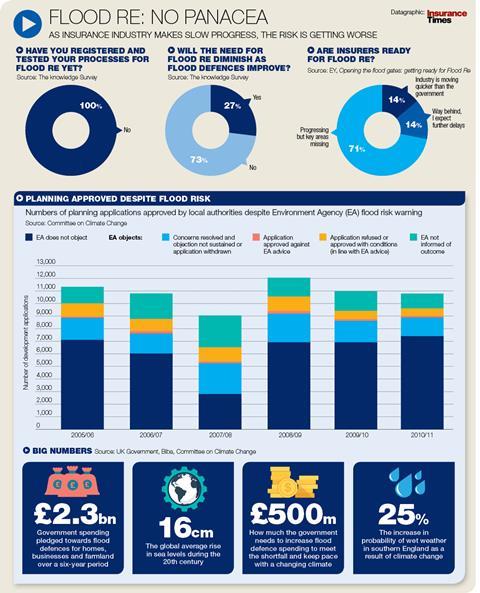 Click here for a larger version
Flood Re was never intended as a long-term solution to UK flood risk. The ultimate aim is to phase the scheme out over 25 years as flood defences improve. But, given the continued pressure on local authorities to build new homes, along with a changing climate and rising sea level, it is uncertain whether the need for the scheme will reduce.
Homes built since 2009 are excluded from Flood Re, in an effort to dissuade developers from building on flood plains. But figures last year showed the EA rubber-stamped up to 200,000 homes on such areas since it was formed in 1996.
"We've seen an increase recently in houses being built on flood plains," says Thornley. "It's something that as an industry we need to remind government about."