Steve McGill gives rousing speech at the Worshipful Company of Insurers event 
Aon Risk Solutions chairman and chief executive Steve McGill gave youngsters hoping for a career in insurance a rousing speech about how he left school as a wide-eyed teenager and went on to achieve career success in insurance broking.
Speaking to a room packed full of students who had come to The Brokerage and The Worshipful Company of Insurers annual summer networking event at the Chartered Insurance Institute, McGill said that his A-level subjects were geography, economics and physics.
McGill said he was a student with unfulfilled potential and upon leaving school in 1977, the headmaster's report said: "I hope Steve's career plans are well in hand. This will give him that extra stimulus to obtain something worthwhile."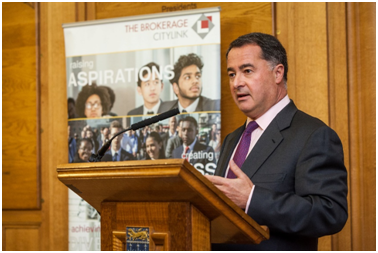 However, McGill told youngsters at the ACE-sponsored event that he quickly found a passion for insurance which helped carry him up the career ladder. He also stressed that he was always willing to listen and learn, an important trait in making his career successful.
McGill said: "I have had a 40 year career that is inspirational and exciting. When I was that young man who had done my A-levels, and if I had looked to the future, I never thought I would be privileged enough to be in the position I am in today."
The Brokerage and The Worshipful Company of Insurers is a charity aimed at promoting insurance career opportunities for youngsters. Some of the activities it gets involved in are mentoring, fundraising for education projects, and promoting professional practice and ethical behaviour within the insurance industry. It also helps students gain work placements with insurance firms and firms working with insurers.
McGill left students with a quote from Manchester United legend Sir Matt Busby. McGill said he saw the quote proudly on display at the football club.
He said: "When I was doing the Manchester United sponsorship I came across a quote from Sir Matt Busby. It said: 'strive for perfection and if you fail to achieve it, settle for excellence'. I would encourage you to do that."
Stanley Kamalu, who is currently working as a construction paralegal at law firm Clarkslegal, praised what The Brokerage and The Worshipful Company of Insurers had done for him.
"The Brokerage is very useful. As a young person, it is there for you. If you have confidence in your ability and you can get a placement from it, apply for it," he said.
Graham Dickinson, master of Worshipful Company of Insurers and a partner of law firm DWF, said: "I was delighted to meet so many students and all at the Brokerage can be rightly proud of the achievements of the scheme. Some stars of the future were clearly on display."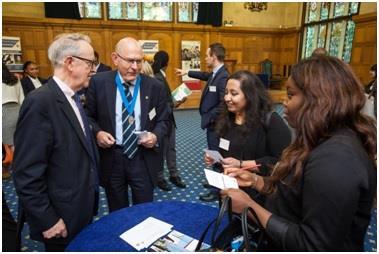 Reg Brown (centre) WCI member and trustee of The Brokerage, with students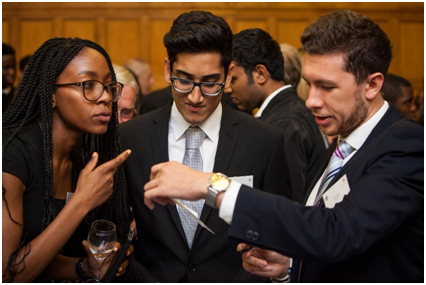 Students Chante Joseph and Ali Sheikh meeting a WCI member