Snowball rules himself out of group chief exec's job while Ageas's Barry Smith is linked to the role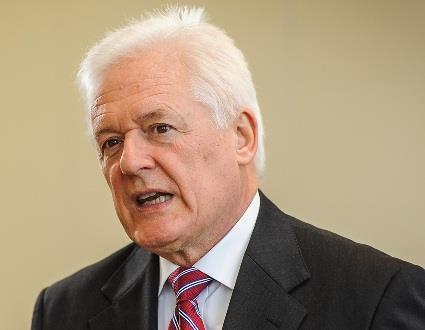 Aviva could close or sell up to 15 divisions in an overhaul of the business, according to reports.
Recently appointed executive chairman John McFarlane (above) is expected to reveal that between 10 to 15 businesses will be shut or sold in a strategy presentation to analysts this week.
Reports suggest the firm's US business, which is said to be worth £1bn, could be one for the chop. While is has also been suggested that Aviva could further sell down its stake in Dutch insurer Delta Lloyd.
According to the Sunday Times, McFarlane has stripped out four layers of management at the firm's London headquarters and has split Aviva's operations into more than 50 units, which he has classified as either core, in need of improvement, or for sale.
McFarlane became executive chairman following the departure of chief executive Andrew Moss, who was forced out by shareholder anger over pay and performance at the firm.
McFarlane has reportedly waived any increase in the chairman's remuneration package, despite taking on executive duties since Moss's departure because of the shareholder rebellion in which 59% refused to back Aviva's remuneration package.
Chief exec hunt continues
McFarlane has taken the executive chairman role as an interim measure, with Aviva expecting to announce a new chief executive in the next six months. Chief financial officer Pat Regan is the favourite among the internal candidates.
However City headhunter Spencer Stuart is leading the search with The Telegraph reporting that former Aviva UK chief executive Patrick Snowball (left), has been sounded out. Snowball left Aviva in 2007 after losing out to Mr Moss in the race to become chief executive. He now runs SunCorp. "I did hold exploratory talks with headhunters and am flattered to have been approached," he said. "However, I have no plans to go back. I have a great job in a great country, so why change anything?"
Ageas UK boss Barry Smith (right) is also believed to have been approached by headhunters in recent weeks, the paper said. However he is thought to be keen to stay in his current role, with industry sources suggesting that Ageas could pursue a Smith-led London Stock Exchange flotation in the next two years.