Share prices rocket following Zurich takeover 'talks'
Aviva's shares rallied last week as the City was abuzz with rumours of a £17.2bn takeover offer from Zurich Financial Services. But the speculation was played down by analysts who believe insurers are grappling with too many issues to consider consolidation.
Last Thursday, the UK's largest general insurer's share price rose from 406p on to 440p in just 24 hours, as rumours spread that Zurich was preparing a £6-a-share offer. The talk fizzled out and the share price had dropped back down to 408p at time of press on Tuesday.
Panmure Gordon analyst Barrie Cornes said the chances of an Aviva takeover were slim, citing the focus on Solvency II as a key reason.
Jeffries analyst James Shuck agreed. "Until you can be sure about how much capital you need to back the liabilities you are buying, large cross-border deals are very unlikely, particularly given the uncertainty over diversification credit.
"The more likely deals are where people are getting new access to distribution, rather than manufacturing capability where there is not many feasible targets." Shuck believes it is more likely that there will be consolidation within the smaller insurers.
Novae was carrying out due diligence on Omega before pulling out at the end of last month. In an interview with Insurance Times, Novae chief executive Matthew Fosh admitted that mid-cap listed Lloyd's insurers needed to merge to give critical mass, improving access to capital markets funding.
Shuck said: "At the smaller end of the scale that is likely, because mergers help them compete. You are seeing it with the Lloyd's names. Among the larger names the strategic rationale is less clear cut, you are much more likely to see the larger cap names do deals of gaining access to growth markets that they missed out on last time around. You saw that with Zurich buying Santander's Latin business and AMP buying AXA Asia Pacific."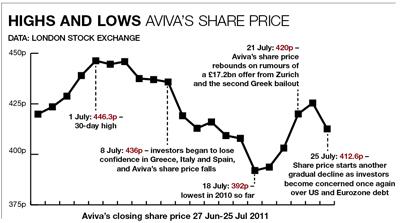 The bounce in Aviva's share price was also credited to the agreement for a second bailout for Greece.
Throughout July, investors sold Aviva stock on concerns over peripheral sovereign debt, even though the insurer's exposure is a very small part of its investment book.
The sell-off sent Aviva's shares to their lowest price point this year at 392p on July 18. Aviva was also hit by a general flight out of risky assets such as equities into safe havens, including US Treasuries and gold.