QBE Europe's PCM boss says ambition is achievable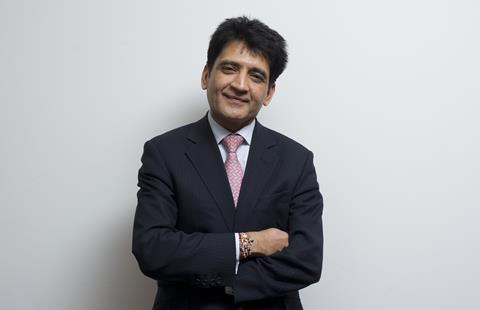 QBE Europe aims to nearly double its property, casualty and motor (PCM) premium income from $2.7bn (£1.7bn) to $5bn by 2015.
PCM chief underwriting officer Ash Bathia, speaking to Insurance Times (see page 16), said QBE's huge potential for expansion in Europe and emerging markets, with a harder market, makes the ambitious figure achievable.
$5bn is less than 0.3% of the global market. It is not a huge ambition"

Ash Bathia, QBE

Bathia said: "The global non-life business, according to the latest statistics from Signia, is about $1.8 trillion. It's huge. And we're thinking to take a small piece of that.
"If I call it $5bn, it is less than 0.3% of the global market. So it is not a huge ambition in real terms."
Bathia said QBE has the foundations of a $300m premium income business in 17 countries across Europe and huge potential to expand in Germany, France, Italy, Spain and Scandinavia.
Canada, meanwhile, could rise from $200m to $500m using the strength of the Lloyd's franchise.
And there was a "fantastic opportunity" in emerging markets in Asia and Latin America, growing as a market at 20% annually in insurance premium.
Talking about the market cycle, Bathia said: "If you look back at the last hard market, which was back in 2001 and 2002, the rates probably went up about 50%. I'm not saying the correction will be that phenomenal this time around, but there will be a big correction in the market.
"If the markets go up by 20%, we've already added $500m-$600m dollars to the business straight away. So if you look at our ambition to get to $5bn, it's not just premised on pure, pure, pure new business growth, it's premised on a combination of new business growth, new territories, new products, but also the market cycle."
Bathia said QBE would take its time expanding in the UK, which was "difficult and saturated".
He said: "For UK property, we have to bide our time. There are opportunities. Our growth is coming from other parts of the world. Our growth in the UK will come, but there is a time and a place for that."
We say …
● Some would question whether such rapid growth is achievable, but Bathia has built his career on hitting targets and QBE has confidence in him.
● QBE's ambitions may show that the "new insurers" are looking to gain market share off the established players in mature markets. AXA aims to be "selective" in mature markets and cut costs by €1.5bn (£1.24bn) by 2015.
● Can QBE expand and not take a hit to its loss ratios? QBE Europe had a 91% combined operating ratio in 2010, a reasonably good year for low catastrophe claims. It does seem QBE is starting its expansion plans from a position of strength.