The chief underwriting officer has big ambitions to bring QBE's property division in line with the rest of the business, but insists $5bn is not really that big a target in real terms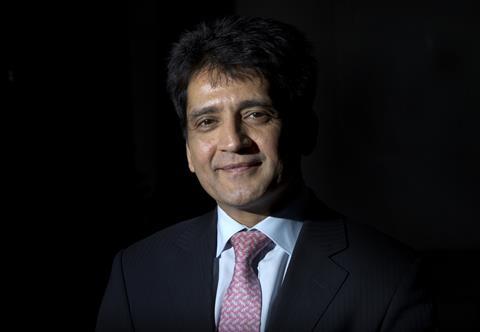 It was US tycoon Donald Trump who famously coined the phrase: "Think big and kick ass."
QBE's Ash Bathia, well schooled in corporate speak, would never use such brash terms, but nonetheless his plans for QBE are almost Trump-esque in their ambitions. And during this interview with Insurance Times, he's not afraid to beat the QBE drum.
Chief underwriting officer Bathia aims to take his property, casualty and motor (PCM) division of QBE from a $2.7bn (£1.7bn) premium income to $5bn by 2015. Those are big numbers, but Bathia isn't fazed. In fact it seems he's underplaying it compared to his staff, who reckon they could hit $6bn.
Bathia says calmly: "The global non-life business, according to the latest statistics from Signia, is about $1.8 trillion. It's huge. And we're thinking to take a small piece of that. If I call it $5bn, it is less than 0.3% of the global market. So it is not a huge ambition in real terms. Only if you look at the pure number does it feel like a huge ambition."
Star keeps rising
Bathia's career has been about hitting big numbers. Born in Uganda and raised in India, on arrival in the UK as a teenager his first job was to learn English. Leaving behind his dream of becoming a geneticist to earn money – "needs must", he says simply – Bathia joined Eagle Star as tea boy straight after A-Levels. He worked up the ranks through personal lines underwriting to reinsurance, before finally heading up the international liability portfolio. Between 1990 to 1996, he took it from £3m to £14m.
A rising star, he was head-hunted by QBE, and over 14 years he ramped up its casualty book from $1m to $1bn. It's these impressive results that have led QBE to believe Bathia can hit $5bn.
Detailing his strategy, Bathia says QBE's base of 17 offices across Europe has a $300m premium income – a solid base from which to attack Germany, France, Scandinavia, Spain and Italy. Then there's the Canadian operation, which already has $200m and could hit $500m, and finally, of course, the emerging markets.
But here's the catch. Bathia reckons he'll need helping winds from a hard market; many gloomy insurance executives believe that's a long way off. "For me, it is a question of when the market is going to turn; it is not a question of if," he says.
It's not personal
Bathia has an unshakable belief in himself and his underwriting division. In return, QBE has shown faith in Bathia. That was demonstrated last summer when Bernard Mageean, who arrived with much fanfare from RSA in 2008, was shown the door and his property portfolio given to Bathia.
The market was buzzing with rumours that there had been a personality clash. The normally cool-headed Bathia raises his voice a notch as he sets the record straight: it's just business. QBE wanted to get its property business on a level with its casualty book, and he was chosen as the best man to achieve that objective, he says.
"In business you need tension, because tension is good. As long as it is constructive rather than destructive. So the whole situation around our property business was purely a commercial decision, it was not a personality decision."
Building property
This moves us nicely onto the UK. Mageean boldly stated he wanted to make QBE a top-five property player writing business from the UK.
Has Mageean laid a precedent for his successor? Bathia emphasises that it's not about the ranking. "Our mantra is about being a leading and specialist business insurer. It is not about which number you are at, it's about how good you are at what you are doing and what you promise and you can deliver on," he says.
"Our property business in 2010 was about $450m, last year it grew to $600m and this year it will grow to around $750m, so we are getting our property proposition in level terms with the rest of our business."
Clear communicator
Bathia doesn't duck or evade the tough questions, and he communicates his point well enough. The same can't always be said of QBE's public relations. It has often been hard for journalists to get a response from the company, leaving the insurer open to speculation and attacks from outsiders.
Maybe Bathia can help Insurance Times shine a light on what is happening at QBE Insurance Europe Ltd (QIEL), which the company has been at pains not to speak about since its poor results were revealed. QIEL includes the UK regional offices and 17 offices in Europe, but not the Lloyd's arm. While QBE Europe, which includes the Lloyd's business, posted a strong combined operating profit in 2010 of 91.3%, QIEL was way off at 106%.
Transparent across the business
So what's going on here – has QBE been hit by the UK recession and the soft market? "It's a good question," says Bathia, not revealing too much about the reasons behind the QIEL performance. Instead, he points out that the overall picture is healthy – and that's what interests his Sydney-based masters.
"A diversification perspective drives our business across the aggregate. I would not read too much into individual entities. We want to be transparent across all the different entities," he says.
Nonetheless, improving the UK's performance will surely be another target for Bathia. Last month, QBE rolled UK and Ireland distribution into Bathia's division.
QBE intends to offer brokers more package deals, rather than writing on individual lines. That should ramp up premium and improve combined operating ratios.
'You have to deliver'
The UK is yet another pressure on Bathia. A lot rests on his shoulders: QBE is ambitious, it wants results and is not afraid to swing the axe on underperformance. A knowing smile breaks out on Bathia's face. "It's not pressure, it's a reality. To me the equation is simple: you have to deliver. That is what business is about. I don't find that equation particularly difficult.
"My job is to lead the PCM and make a return, and if I don't make a return, it's fair game. That bit does not scare me at all. It's just part of life."