Biba headed to Westminster to launch its manifesto, which included key pledges on productivity and Brexit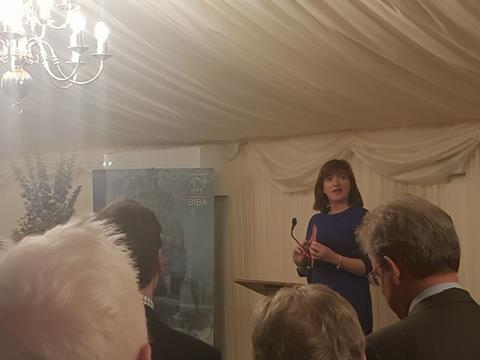 Yesterday, Biba members, ministers, MPs, lords and Government officials gathered in the Houses of Parliament to introduce Biba's 2018 manifesto.
Chair of the Treasury Select Committee and MP for Loughborough, Nicky Morgan (pictured) launched the manifesto, the theme of which is 'Engaging'. The manifesto includes 37 calls for action and 19 commitments, with productivity a key theme.
Key calls for action and pledges
High on Biba's agenda for 2018 is tackling the rate of regulatory change. It will also call for the FCA to be bound by a global competition objective and for proportionate supervision of brokers.
Biba chief executive, Steve White commented: "Of late, Ministers have been very vocal about how UK productivity lags behind other countries and Biba is asking for Government and regulators to engage with Biba to achieve a better balance between risk and regulation."
White continued: "Research has shown systemic risk does not arise from insurance brokers yet they and their customers are faced with a barrage of new instructions, rules, documentation and missives from one of the most expensive regulators in the world.
These 'business as usual' demands have been in addition to the coming challenges of the GDPR, the Insurance Distribution Directive, the Payment Services Directive and Brexit. The sheer weight of red tape and continual changes affect our sector's productivity, increases frictional costs and hinder service and innovation."
Also a key priority, Biba called for Insurance Premium Tax (IPT) to be frozen during this parliament.
Other pledges in the manifesto include working to improve access to insurance for those without home insurance cover. It has committed to raising awareness about terrorism insurance, where there is also a gap.
Biba's Executive Director Graeme Trudgill said: "BIBA already has a successful established model for helping consumers and businesses access suitable insurance cover thought our Find-A-Broker service which doubled the number of annual enquires in 2017 to 551,300. We believe the FCA and other stakeholders can do more to broaden signposting, particularly people with medical conditions, to appropriate insurance brokers to help them access insurance."
Biba's Brexit calls for action
The manifesto has a separate section dedicated to Brexit.
It calls for bespoke mutual recognition. Biba wants a free-trade agreement put in place so that UK and EU brokers and insurers can continue to trade freely and legally.
It is necessary for prudential regimes that confirm regulatory alignment between the EU and the UK to be recognised, according to Biba's manifesto.
Biba also wants Gibraltarian capacity to be confirmed legal in the UK prior to Brexit.
In addition, high on Biba's Brexit agenda is ensuring there is a transition agreement in place so that there is no uncertainty over insurance policies issued after 30 March 2018.
It hopes that it will be possible to maintain a health agreement system like the current European Health Insurance Card (EHIC) so that travel insurance will not be severely affected.
It will also call for a free circulation zone free of green cards for motorists, and for a bilateral driving licence agreement.
White said: "We are pleased that Government will be legislating to allow many EEA regulated insurers to continue to allow for contracts of insurance for UK clients, but this needs to work both ways and we are calling for a trade agreement that allows for mutual recognition."