Expert opinions from the worlds of politics and journalism will be on offer at this year's Biba conference. Among the big speakers taking to the stage will be the founder of the world wide web, and one of the most familiar faces on BBC television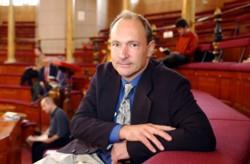 Andrew Marr
Journalist, TV presenter and author
Wednesday 10.00
'Journalism is none-tenths being in the right places at the right time'
Journalist Andrew Marr is best known for his on-screen presence as the BBC's political editor for five years, characterised by his distinctive arm-waving delivery. He currently hosts breakfast programme The Andrew Marr Show on BBC1 and presents Start the Week on Radio 4, as well as making the occasional appearance as himself on Doctor Who. Other programmes Marr has presented include
A History of Modern Britain and The Diamond Queen, while his books include My Trade:
A Short History of British Journalism. The former editor of the Independent has written for the Express, Observer and Economist and won numerous columnist of the year awards.
Sir Tim Berners-Lee
Inventor and professor
Thursday 12.10
''The web is more a social creation than a technical one. I designed it for a social effect'
As the inventor of one of the biggest phenomenons of the 21st Century, the World Wide Web, Tim Berners-Lee is a true pioneer in his field. The Oxford University graduate came up with the concept during his time at CERN, the European Particle Physics Laboratory, in 1989, writing the first web client and server in 1990.
He is now the 3Com Founders Professor of Engineering at the School of Engineering with a joint appointment at the Department of Electrical Engineering and Computer Science at the Laboratory for Computer Science and Artificial Intelligence at the Massachusetts Institute of Technology. In 2001 he became a Fellow of the Royal Society and three years later was knighted by the Queen and in 2007 awarded the Order of Merit.
Daniel Finkelstein
Editor and former political adviser
Thursday 9.30
'We have rarely enriched the poor or enhanced lives as we did by creating capitalism'
From crossing the political divide to the convergence of the internet, Daniel Finkelstein has seen and done it all. He started out as chair of the Young Social Democrats, a parliamentary candidate for Brent East in 1987 and an adviser to SDP leader David Owen.
Following its merger with the Liberals, he joined the Conservatives. Between 1995 and 1997, Finkelstein was director of the Conservative Research Department, advising John Major and attending Cabinet meetings. He was later political adviser to the leader of the opposition William Hague. He is currently executive editor of The Times.
David Ross
Chief executive, Arthur J Gallagher International
Wednesday 14.10
A truly one-company man, Arthur J Gallagher chief executive David Ross has spent his entire career with the broker. He started as a North American property technician in March 1990, and by 1994 was head of its accident and health division. In 1997 he became responsible for the North American division of Gallagher London. He went on to lead global wholesale in 2002, and three years later was appointed UK chief executive.
Sean McGovern
Director North America and general counsel, Lloyd's
Wednesday 14.10
With Lloyd's since 1996, Sean McGovern has been a director since 2002 and is responsible for Lloyd's business in North America, as well being its general counsel. He is also a non-executive director of The CityUK and a non-executive director of Xchanging Insurance Services Ltd. Last year he was appointed to the first US federal advisory committee on insurance.
Nick Houghton
Managing director, Towergate Network Division
Wednesday 14.10
As Towergate Network Division's managing director, Nick Houghton works with Broker Network and Countrywide, two of the UK's leading networks businesses. An insurance broker by background, Houghton joined Towergate Network Division as sales and marketing director in 2009. Prior to that he was managing director of Towergate's niche retail broker, Towergate Professional Risks.