Oak Underwriting and Hiscox scoop second and third place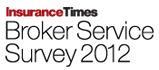 Chubb, Oak Underwriting and Hiscox lead the pack for service in personal lines, taking the top three positions in this year's Insurance Times Broker Service Survey. Click here to read the full report, available only to subscribers
Chubb takes its familiar first place, having dominated the top spot since 2009. But Oak, which stepped up one position into second, dislodging Hiscox into third, could soon be challenging for the top spot after being bought by RSA in May last year. At the time, RSA personal lines broker managing director Steve Kingshott made no secret of his ambition to make Oak the market-leading high net worth insurer.
The average service score was 3.68 for the 18 major personal lines insurers ranked this year, up by 0.16 points from 3.52 in 2011.
Oak made the biggest gain in its Total Score of all the insurers, putting it just 0.02 rating points behind Chubb. Zurich had a stellar year in the survey, moving up five places to number seven, and making it the fastest climber. The biggest decline was recorded by Legal & General, dropping six places into 15th position, which it shares with AXA.