Insurer launches two new landlord products on Acturis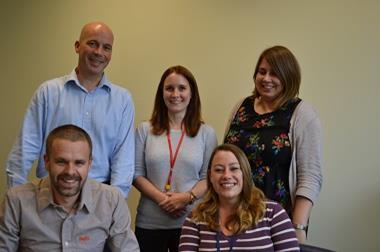 Covéa Insurance has launched two new e-traded property products on the Acturis software platform as the first step in the overhaul of its small business offering.
The two products have been designed for landlords with residential properties and small commercial properties respectively.
Covéa said the new products offer a range of enhancements and additional benefits compared with their predecessor products.
They are complemented by a guaranteed 30-minute referral service from Covéa Insurance's newly established small business trading team (pictured).
The insurer revealed its plans to revamp its small business e-traded offering when it appointed Tony Matthias to run the unit as small business underwriting manager in July.
Small business senior manager Tim Grant said: "We've listened to what brokers want from an e-trading proposition and that's why we've introduced the same trading commitment as our colleagues in Sterling.
"With the additional harnessing of technology, we aim to deliver brokers an exceptional referral experience to help them win business with optimum efficiency.
"This is the first step in the transformation of our e-trade small business offering over the next nine months, a transformation that will touch every part of our proposition."
Matthias added: "Our new trading team is enthused and passionate about providing a level of service and referral response that will encourage brokers to make Covéa Insurance a preferred insurer.
"The team are determined to build positive relationships with brokers, by demonstrating a 'can do, will do' attitude."