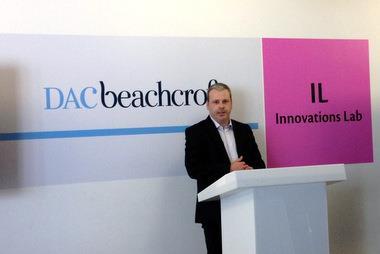 DAC Beachcroft has set up Innovations Lab to promote technology processes and products to a reluctant insurance industry.
Speaking at the launch event, DAC Beachcroft Claims Solutions Group chief executive Craig Dickson (pictured) said that there are daily calls for the insurance industry to be more innovative, and "lots of people are talking about it, and very few are doing something about it."
The Innovations Lab, a research and development hub, will work with insurance companies to identify, evaluate, design, prototype and launch new commercial products and services.
"Our Innovations Lab team will concentrate on a few ideas at a time so prioritising the right ones will be critical.
"How long a project takes to go from the idea stage through to launch is going to differ every time, but all the ideas will be rigorously evaluated and analysed as they pass through the Innovations Lab to ensure they have a clear business case to deliver value to us and our clients," Dickson said.
The firm has initially established a 16-man team to work on the Innovations Lab and the make-up of the project team will change to reflect the skills and expertise needed to evaluate, develop and test a new product or service.
Dickson said: "Through our new Innovations Lab, we can work closely with clients to discuss ideas and help shape products and services for their customers, brokers and wider stakeholders, bringing together our market insight, legal knowledge and connections."