Tom Lawrie-Fussey, Cazana's commercial director tells Insurance Times how using event 'triggers' to interact with customers throughout the policy year helps to build loyalty at renewal time
Renewals and the desire to retain customers is not a new concept. All industries rightly recognise the commercial benefits of growing and maintaining a loyal customer base. However, the importance of renewals is becoming increasingly paramount.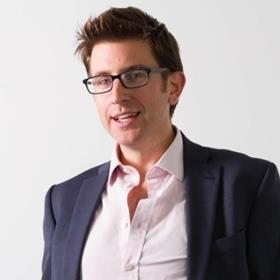 To be more specific, the importance of multiple legitimate and relevant interactions with the customer during the year is now the focus. All too often, customers can't recall who their insurer is.
Therefore, as they approach renewal time they have little or no loyalty. They then start the process all over again, often via the aggregator sites. There is a significant opportunity to minimise this 'churn', however. If insurers engage with consumers throughout the policy year, introducing timely and relevant content affirming real value, customer loyalties naturally become stronger.
To implement this approach, a new methodology is required. Rather than vehicle enquiries always being triggered by (and hence hung off) a vehicle registration plate, a time or event-based trigger could be used. The trigger would provide the insurer with a time-bound insight relevant to each and every one of the customers on their book. The potential benefits are clear.
Create a different agenda
All too often, most customers associate their insurer with a company they'd only expect to interact with during an unfortunate claims process or when they're being asked for money at renewal time. Creating a completely different cadence and agenda with the customer is difficult, as their default position will inevitably be reluctant and sceptical.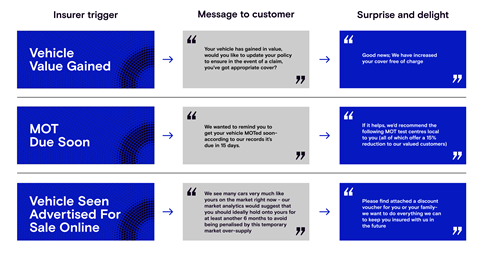 However, the rewards can be huge. Benefits would include an engaged and loyal customer base, where the cost of initial acquisition can be amortised over many happy years of loyal policy cover. A closer ongoing engagement model helps to facilitate mid-year adjustments based on market dynamics and actual vehicle use, etc.
It also provides other useful metrics into the actual risk profile of the customer. Each interaction triggers yet more context about their own risk appetite, their personal situation and more.
Of course, the example trigger scenarios listed here are a mere snapshot of what behaviours (market or customer) could be used to initiate a vehicle specific insight to be established and shared with the customer. In broadening this topic area, including somewhat tangential insights, insurers have the ability to build a stronger relationship with their customer – one that isn't based purely on quotes, claims and renewals.
The enabler to this capability is critical and involves a new approach to vehicle enquiries. Simply being able to interrogate vehicle data from the vehicle registration number will soon be insufficient.
A more integrated data analysis paradigm is needed where the insurer and data enrichment partner work together to highlight and surface these time bound events according to the insurer's own constantly evolving book. Cazana has seen similar evolutions in the many other market verticals it operates in. It is this integration that ultimately unlocks the most value for clients, enabling them to generate relevant and lead-converting content to their customer base.
Connecting with customers
Cazana is looking at new ways to help insurers connect with customers throughout the customer lifecycle. By using these event triggers specific to the customer's vehicle, insurers are able to provide valid reasons for additional customer contact.
These triggers help build and nurture genuine relationships between the customer and the insurer, extending beyond a hopeful annual transaction. Simply stated, the triggers would ultimately improve customer satisfaction, customer retention and overall profitability.