Tom Lawrie-Fussey, Cazana's commercial director tells Insurance Times how the firm's 'individual vehicle approach' could improve combined operating ratio (COR)
In a world with loss ratios under increasing pressure, motor insurers are keen to understand more about the risk signals present "in the metal" – the vehicle itself.
Cazana's individual vehicle approach and commitment to building VIN-level (vehicle identification number) "vehicle passports" enable a previously unheard-of level of vehicle insight. From knowing the ADAS (advanced driver-assistance systems) features fitted to a specific car, through to recent trends on MOT advisories, Cazana provides insurers with a real-time deep-dive into the "metal" at an unprecedented level of accuracy and speed.
Vehicle valuations is perhaps the area Cazana are most well-known in market, and the accuracy of these models is such that underwriting teams are seeing significant risk-prediction power compared to traditional vehicle valuation providers which typically have negligible benefit at point of quote.
The following diagram illustrates the power of Cazana data alongside personal data sets, and the key points are: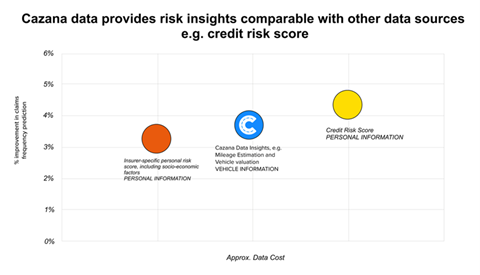 1. Cazana vehicle data provides similar risk score benefits to the established personal information data sources. Cazana uncovers similar value but without any GDPR/PII complexity
2. The risk benefits shown are based on an insurer that is consuming a relatively limited subset of Cazana data (around 20% of the full dataset). With the full suite of data embedded in their pricing engine further benefits would be expected.
3. The Cazana dataset is a standard set of signals and not adjusted per insurer. The value uncovered is from this standard dataset, with no data 'training' needed on a given insurers data. The speed at which these insights can be deployed means rapid financial gain without significant training or remodelling required.
Use of data
Cazana is a relatively new name to the insurance industry and yet since the company inception back in 2011, the name has become a go-to for motor insurers looking for next generation vehicle insights.
Cazana has indexed the largest vehicle history database on the planet, aggregating public domain vehicle events together with industry databases to unearth powerful risk insights.
Cazana helps insurers more accurately price risk, avoid fraud and ultimately improve motor loss ratios.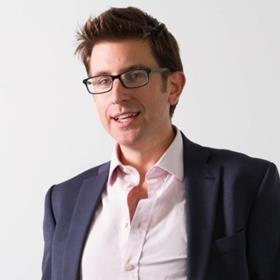 Cazana's massive dataset and extensive machine learning capability are already benefiting a broad customer base from insurance claims to pricing as well as retail and lending applications. Insurance customers include Somerset Bridge, Covea and Sabre.
Cazana's power is in its ability to index the entire automotive market in real-time, capturing and analysing every automotive transaction and augmenting this with government and industry data to build a comprehensive picture of the vehicle market.
This huge database of historical car, motorbike and LCV adverts is analysed to expose insights on vehicle usage, value and fraud signals. Cazana's team of Machine Learning experts then turn this data into actionable insights delivered via APIs (application programming interface) and SaaS (software as a service) tools.
Whilst the business has been working with most insurance claims teams for a number of years (Cazana is recognised by the UK Financial Ombudsman as a trusted independent and unbiased source of fair vehicle valuations), 2020 saw rapid expansion into underwriting, price comparison website (PCW) and broker data provision.
Reducing question burden
Beyond the datasets currently deployed within the underwriting space, Cazana is also beginning to help reduce the question burden for direct insurers and for the PCWs. In the typical UK motor question set, seven questions can be removed or pre-populated, including mileage, years of ownership, modifications and of course valuations – both now and in the future for simpler, more accurate renewals.
Cazana's new product development is rapid with a significant pipeline of additional APIs coming online in 2021, including fully normalised taxonomy of standard and optional fit items.
With a focus on ADAS, a fully 'translated' data feed that provides crucial fitment clarity in plain English will be launched shortly. No OEM-specific (original equipment manufacturer) confusing feature names, this dataset explains and demystifies the complex world of vehicle options, helping motor insurers hook straight into insight and value, minimising integration effort.
Clients can access Cazana directly or via any of the UK's main data distribution partners allowing insurers to quickly consume data once they've assessed the value. Cazana's modern APIs are designed for scale and reliability with insurers already accessing them millions of times daily.