Arsenal striker Bendtner has six points added to licence after being caught by police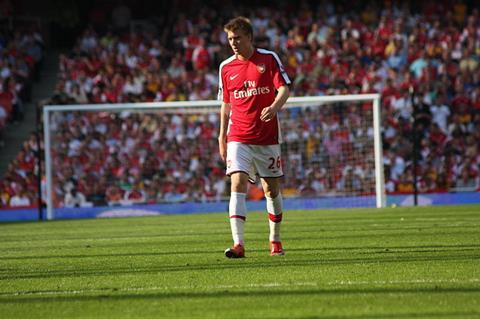 Footballer Nicklas Bendtner has been fined almost £5,000 after being caught driving without a licence and insurance, according to a report in the Daily Mail.
The Arsenal striker, who was on-loan at Sunderland last season, was stopped by police in South Tyneside who discovered he had no insurance and driving licence for his £40,000 Audi.
The 24-year-old Danish international was charged with driving without the correct licence, using a vehicle without insurance and two counts of driving a vehicle with a registration plate not conforming with regulations.
He was found guilty in his absence by magistrates at South Tyneside Magistrates' Court, and fined £4,750 and had six points added to his licence.
Bendtner was also ordered to pay £85 costs.
Bendtner allegedly told police when asked why he had no insurance or proper number plates on his Audi Q7, that he had a 'friend who sorts that out for me'.
The court heard that the striker had no licence after failing to re-apply for it after receiving a previous driving ban for speeding in February.
Newcastle Magistrates' Court banned Bendtner from driving for 56 days after he was caught driving his Porsche 911 at 103mph.