Company hoping to accelerate growth with new hire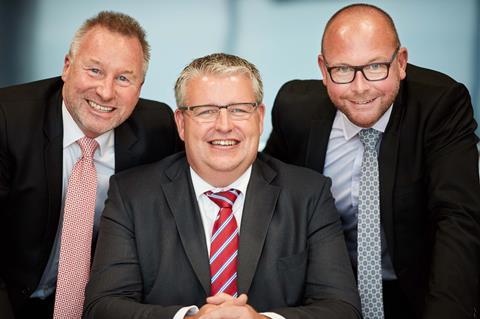 Specialist online sports and leisure broker JRW Group has hired former Thistle managing director Paul Williams as executive director to spearhead a new growth phase.
JRW Group made the news in March by developing Insure4Drones, an online click-and-buy commercial drone insurance product underwritten by Lloyd's insurer ArgoGlobal. JRW started in 1998 with a golf insurance product.
Williams (pictured centre), who left JLT-owned underwriting agency Thistle in April this year, aims to help JRW Group grow through acquisitions, using data to spot opportunities, and finding insurance capacity for new products.
Williams told Insurance Times that JRW, which launched in 1998 with a golf insurance product, has 165,000 live policies and typically grows its policy count by 20% a year.
But he said his arrival should boost this. He said: "What you will see in the next few years with me coming on board is a step change in the growth."
He added: "Acquisitions will form part of the plan and we have got some potential targets. But we going to be very clear on is the strategy, which is niche specialisms, digital, online, use of data and clever use of capacity."
Williams joins existing directors Colin Whitehead (pictured left), who is JRW's chief executive, and John Woosey (pictured right), who is managing director.
Woosey said: "My experience is advertising and marketing in the digital space. Colin's background is chartered accounting, so the financial side is Colin's expertise. The final piece of the jigsaw is Paul coming on board with that deep ingrained insurance experience."
Acquisition targets
On acquisitions, Williams said JRW is not looking for traditional brokers but niche players that are struggling to grow because of limitations with their marketing expertise or technology.
He said: "They might want an exit and selling to a consolidator isn't a natural home for them. A digital play doesn't naturally sit with a consolidator model."
Product pipeline
In addition to the drones product, JRW has also launched Insure4Music and Insure4Boats in the past 12 months.
The company hopes hiring Williams will help them speed up product launches.
Woosey said: "We have launched thre new products in the last 12 months and we are hoping that with Paul's involvement now we can speed up that process, so we have a conveyor belt of new products."