Chief exec François-Xavier Boisseau says sale will be completed as soon as possible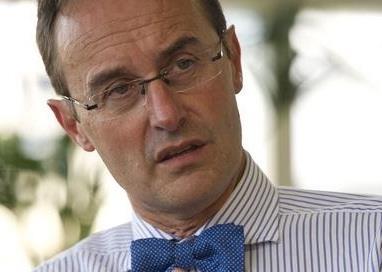 Groupama chief executive François-Xavier Boisseau was fighting a rearguard action last week after AXA and Aviva made a grab for its broker books.
Boisseau continued to stress to brokers that Groupama's UK arm is a separately capitalised company with a solvency ratio of 200%.
But rating agency Standard & Poor's has rated all Groupama subsidiaries, including the UK businesses, as the same as its parent at BBB-, which is one above junk.
The situation has caused concern among brokers, and rivals are ready to pounce.
Aviva's director of trading, Phil Bayles, said: "Aviva is in the market for Groupama business and we are talking to a number of brokers."
AXA commercial chief executive Amanda Blanc said: "Brokers have approached us and have had conversations about the account. And, of course, we'll help them if they decide to change."
But Boisseau said that Groupama had recently confirmed a number of valuable new deals and added he was confident brokers were onside.
Boisseau said: "Feedback from supporting brokers has been overwhelmingly positive and very supportive. It is pleasing that we have recently confirmed a number of valuable new deals and we continue to see an encouraging level of interest and support from our business partners.
"We have been in touch with all Groupama brokers to update them about the sale process and we will continue to keep them informed as developments occur.
"As you might imagine, we have very close relationships with our major supporting brokers and have spoken personally with all of them to inform them of the news."
Insurance Times understands that a note from one of the major investment banks circulating around the City says the broking
subsidiaries – Bollington, Carole Nash and Lark – have a combined earnings before interest, depreciation and amortisation of between £13m and £14m.
There is speculation that Groupama could secure £70m for the brokers and £230m for the insurance company, although sources believe those figures are the most optimistic projections.
RSA had been tipped as a bidder for Groupama's insurance company, although there is a feeling that much of the broker business can be picked up for free.
One concern for Groupama must be that a high percentage of its business is in short-tail private and commercial motor, meaning rivals could grab it at renewal.
The threat has not been lost on Groupama. Boisseau told staff in an internal email last month that the sale would be "completed as quickly as possible".
Meanwhile, broking subsidiaries Bollington and Lark are understood to be seeking management buyouts with private equity investment. Bike broker Carole Nash is being tipped for a trade sale, with personal lines specialist BGL a potential buyer.
We say …
● The sooner Groupama concludes the sale of the insurance company, the better. Groupama has a lot of goodwill with brokers, but the longer the sale process takes, the more likely that brokers will transfer their books.
● Brokers will be concerned about who the new owner of Groupama is and whether placing business with that new owner fits their strategy.
● Under pressure from the French regulator, Autorité de Contrôle Prudentiel, to sell up, it seems unlikely that Groupama will pull out of a deal, even if offers are below expectations.
♦ Three people have been arrested on suspicion of conspiracy to defraud for allegedly selling false Groupama-branded motor policies.
The three arrests follow a six-month investigation by Groupama Insurances. The victims of the suspected fraud are said to be motorists in and around Greater Manchester, mainly young drivers.
Groupama teamed up with the Insurance Fraud Enforcement Department on the operation.
Groupama Insurances counter-fraud manager Andrew Pagett said: "Operation Venom has been carried out over the last six months and we are delighted with the progress to date that would not have been possible without the assistance of the Insurance Fraud Enforcement Department."
Detective constable Kate Sibley said: "IFED is committed to working with insurance companies like Groupama to tackle insurance fraud right across the country.
"The arrests made in this case provide further evidence of how this new partnership has made an immediate impact on what is a major area of criminality."