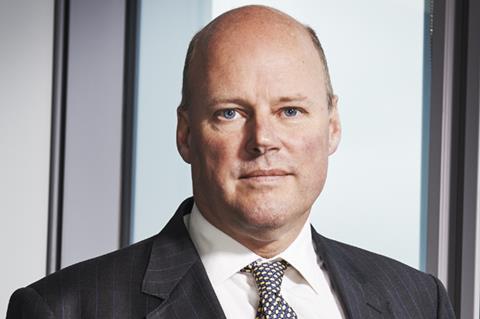 Recent changes at RSA may have been difficult for staff, but they are necessary to avoid a more painful outcome, according to group chief executive Stephen Hester.
Speaking to Insurance Times following the release of RSA's first quarter results this morning, Hester also said that he expected to make "a jolly good dent" in the gap between RSA and the best in the market in the next three years.
Key points
Companies that fail to change "become extinct", says Hester
RSA's job is to "ignore the possibility" of a takeover
Company now building up after two years of turnaround
RSA has made a number of changes to right itself after making a £244m loss in 2013 following the discovery of accounting and reserving problems in its Irish business. Changes have included selling international operations and cutting back in the UK, most recently exiting brokered personal lines motor.
The company has also closed and downsized UK offices, putting jobs at risk.
Hester said: "On a human basis one can have enormous sympathy with coping with change.
"That said, it is absolutely clear that companies that fail to change become extinct. Either they go bust or they get bought by someone else who changes then.
"We nearly became extinct a couple of times – in the early noughties and two and a half years ago – and we nearly got bought last year [by Zurich]. What is very clear is that if we don't change our company, then it will happen anyway but in a more painful manner."
He added: "What I say to myself and all our staff is that if we successfully change our company, although that involves short-term uncertainties and difficult decisions for people, the company will prosper in the long run and then more people will have more jobs that are more satisfying than if we fail to change."
Life after Zurich
Hester said that since the collapse of Zurich's attempted acquisition of RSA, the company is trying to put takeovers at the back of its mind.
"Our job is to ignore that possibility and to make sure that as long as the company is in our stewardship we are running it as well as we possibly can. And that's what we're doing."
Following a two-year turnaround, RSA is now focusing on building itself up. Hester said: "We took two years to turn the company around. We think in the next three years we can make a jolly good dent in the gap between us and best in class."