String of serious injuries puts spotlight on extent of loss of earnings cover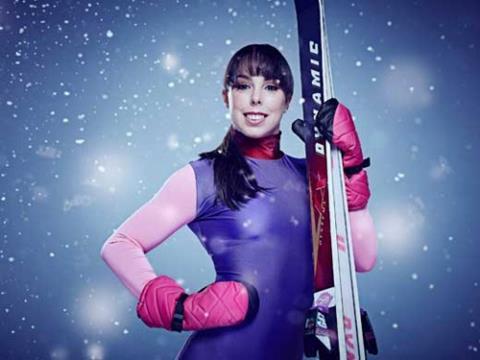 Celebrities injured on the Channel 4 ski reality show The Jump complain the TV company failed to insure them for loss of earnings, the Daily Mirror reported.
The latest celebrity casualty is Made in Chelsea's Mark-Francis Vandelli who broke his ankle in a fall shown on Sunday's programme.
His departure from the show follows gymnast Beth Tweddle (pictured courtesy Channel 4), who is in hospital recovering from neck surgery after she collided with a barrier. Olympic swimmer Rebecca Adlington and actress Tina Hobley have quit, and athlete Linford Christie suffered a hamstring injury.
Comedian Marcus Brigstocke, who appeared on the show in 2014 complained his ordeal had blighted a year of his life after he snapped knee ligaments.
He said that the insurance cover he was given was inadequate given that he was then unable to work for many months.
In a radio interview Brigstocke said: "With hindsight, there was one question I should have asked about insurance cover that I didn't, which was not about dealing with the injury but loss of earnings – being someone self-employed and taking a lot of time off recovering."
Asked if it cost him a lot of money, he replied: "Yes, sure."
The Mirror said that legal experts Quittance estimate the cost of the injuries for the first two episodes at over £150,000.
A spokeswoman for the firm said: "With Beth Tweddle now exiting the show due to severe injuries to her back, the cost is rising every day for injuries associated with the show.
"Depending on the severity of Beth's injuries she could claim upwards of £100,000 and this is without loss of earnings.
"Total injuries for just this season so far, just two episodes in could amount to over £150k in claims and it could go as far as into the millions if it puts people out of work."
Channel 4 said, however: "Each of the contributors are fully insured to take part, with appropriate levels of insurance, and all are made fully aware of the level of cover before signing to take part."
A total of 11 contestants have been forced to withdraw since The Jump began.