Injury costs are rising at Premier League clubs who are looking to insurance for an answer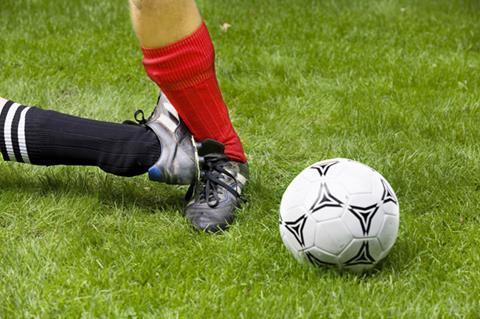 Injury costs hit Premier League football clubs with a £177m bill during the 2016/17 season, up £20m on the previous season, according to research by broker JLT Specialty.
Clubs paid out a total of £177m to injured players during the season, an increase of 12%. With 20 clubs playing 524 competitive matches, JLT found 713 injuries incurred over the season.
With only 30 injuries, Manchester City had one of the lowest injury counts during the season, but it paid out the highest total: £18.3m, which was £500,000 more than any other club. Some of City's highest profile players were injured last season, including Sergio Agüero, Raheem Sterling, Leroy Sané, and Bacary Sagna, as well as club captain Vincent Kompany, who missed 255 days through injury.
AFC Bournemouth sustained 37 injuries, which cost the club £3.2m. This meant that the average injury cost to Bournemouth was nearly £520,000 lower than Manchester City, who paid out £611,204 on average for each player injured.
Sunderland suffered an unusually high streak of injuries during the season, more so than any other club with 58 injuries. This, combined with the highest average number of players unavailable for a given match, arguably contributed to the Club's poor season, which ultimately led to their relegation.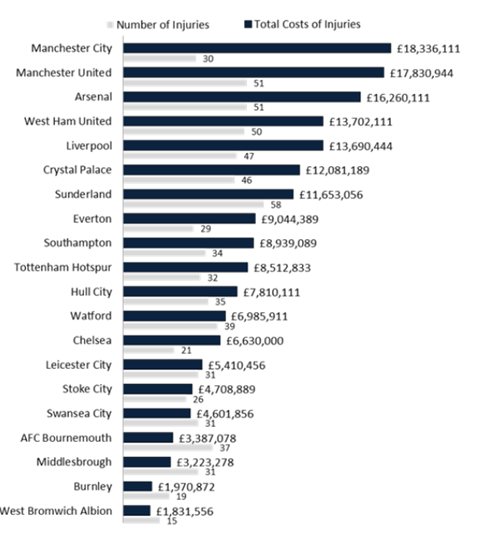 While several factors impact team performance, JLT's report found a very strong correlation between final table position and number of unavailable players across the season. The average number of unavailable players each match day for the Premier League champions, Chelsea, was 1.66, whereas Sunderland was 7.37. Sunderland had at least three players unavailable for every match day of the season, with this number reaching more than 10 at times.
"We seem to be seeing a case of injury-flation this year," said Duncan Fraser, head of sport at JLT Specialty.
"Over the last six seasons there has been a steady increase in the cost of injuries as players become more and more expensive and the Premier League becomes more and more competitive.
"Clubs are increasingly looking to insure their players with the use of a Wageroll Protection policy to avoid a scenario where teams have at times hundreds of thousands of pounds sat on the bench. That way, if a player gets injured for an extended period of time, they can claim a certain percentage of their salary back."