In February Paragon announced a partnership with Marketminds, the hosts of Insurance 3.0
Brokers need to "step forward" and lead the way for product innovation.
This was the message of William Wright, partner and joint head of the technical and cyber team at Paragon International Insurance Brokers as he introduced the morning session at Marketminds' Insurance 3.0 event last week.
Wright kicked off "The Future of the Broker," questioning how it was possible to "stay relevant" to an increasingly evolving customer audience.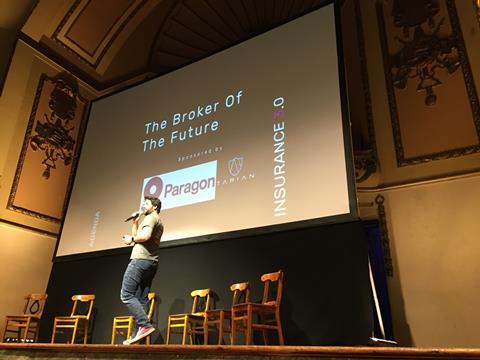 This is because technology is changing, apps are becoming interoperable and social communities talk in real time.
Questioning what that means for risk he pointed out that "this is a minefield in which we are trying to stay ahead.
And pondered what the broking community are going to do about this.
He gave Hiscox as an example of innovation citing the firm as early pioneers in cyber.
But he said: "Insurtechs are really doing a fantastic job of picking the market up by its feet and getting it into the 21st century.
"Brokers need to bring these insurtechs together into the community so that we are communicating as 'one' and not as individual companies' pitching our wares.
"Making it easier for buyers to understand insurance and why they buy it.
"And particularly as a cyber broker to understand how our products work and what they insure, as quite a lot of people are being misled by this."
Wright announced "something exciting" that Paragon is going to be bringing to the market in 2019 - its ecosystem.
He said that Paragon wants to make it easy for people to understand insurance and simplify the product.
Wright wants to bring social media to Pargon's clients ensuring that content is still relevant.
The firm developed its own fintech product to identify these "emerging needs" more exactly.
Painting a picture of the current landscape that cyber operates in he listed blockchain, interconnectivity, the cloud and the shared economy as its make-up.
Of this he said that interconnectivity was a "pretty terrifying" thing from a risk aggregator perspective and that blockchain was pioneering the way professional services operate.
He flagged some of the "vectors in which loss occurs" as GDPR, data breach, IT recovery, ransomware and legal costs.
This he said is fundamentally the landscape.
American software firm, Cylance demonstrated this further with a live hack using ransomware.
Paragon International Insurance Brokers is independently owned and focuses on complex risk management including professional indemnity, management liability, privacy, cyber and technology liability.
In February it announced a partnership with Marketminds - the hosts of Insurance 3.0, who both share a common goal to "enhance collaboration between the London insurance market and the wider insurtech community."
The partnership with the professional business network and consultancy aims to enable the implementation of insurtech to the London market, and build "strong bonds" between growth markets as well as Lloyd's of London.
Subscribers read more