In this blog, Bought By Many chief marketing officer Sam Gilbert discusses the trends in insurance technology and how the passage of time impacts upon digital's adoption in the industry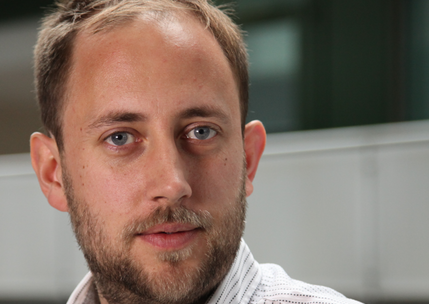 The research firm Gartner has a great model for showing the relative maturity of different technologies. It's called the hype cycle, and it looks like this: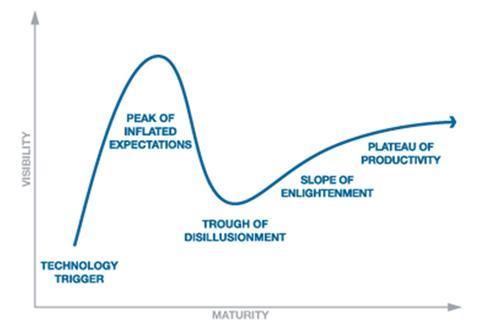 There are five phases to the hype cycle. First, a new technology emerges, triggering a myriad of ideas for potential applications. Startups are founded, commentators predict it will change everything, incumbents include it in the SWOT analysis section of their annual strategic plan.
These expectations reach a peak and then start to decline as technical limitations, barriers to consumer adoption, and regulatory concerns emerge. Chastened, new technologies then slowly regain credibility as people focus on how they can be applied to create real value in the here and now. Finally, they achieve mainstream adoption and acceptance.
So what would the hype cycle of insurance disruption look like, in 2016? I think something like this: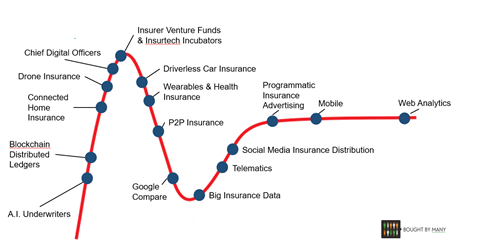 The hottest topics of discussion in insurance right now are those left-most on the chart. We can expect the next 12 months to see seed-stage angel and VC investments in startups addressing the insurance implications of IoT / connected Home (Domotz), blockchain (Everledger), drones (Drox) and maybe even artificial intelligence (Brolly).
Meanwhile, insurance industry incumbents will continue appointing chief digital officers, opening digital garages, and launching venture funds and/or startup incubators with the aim of getting a stake in the next generation of insurtech companies. It will be a few years before we see whether these investments are creating value.
On the other side of the peak of inflated expectations, there is a deepening malaise around peer-to-peer (P2P) insurance. New York's Lemonade may have just raised a $13m seed round, but they have a long hard road ahead.
Their somewhat hubristic claim to be the world's first P2P insurer suggests they aren't aware of Friendsurance or Guevara and the challenges these admirable businesses have faced in creating a value proposition that consumers can understand and buy into.
P2P insurance remains intellectually exciting to insurance industry insiders, but deeply unappealing to ordinary people. Do you want to feel social pressure from your friends not to make a home insurance claim if you spill paint on the carpet? No, neither do I.
It will take a radically different articulation of the P2P consumer proposition for it to gain more traction – probably one that doesn't focus at all on the product mechanics.
If the appeal of P2P insurance is in decline, big data is in the trough. There is even a bot that substitutes the phrase "chronic farting" in any tweet that mentions it. Consolidating a global insurer's data assets on a single platform and then powering the whole organization with advanced analytics seems about as realistic as boiling the ocean.
John Straw, Author of iDisrupted:
"I see positive and negative disruption in the market at two levels. Firstly, trust flow - blockchain through distributed encryption will enable P2P communities to offer a deeper level of trust than exists corporate insurance players - this will be accelerated when the first established insurance company suffers data breach and personal information is leaked.
Secondly - and here's the main opportunity - real time data gathering from the Internet of Things will enable what I call micro insurance - an underwriter will be able to use real time analytics to profitably insure, for example, the contents of your fridge - i.e. to create new markets through insuring the previously uninsurable.
It is likely that the real beneficiaries of this new market will be tech startups who have the agility and technology to quickly move into new opportunities with tech that scales."
But away from these grandiose projects, there are specific insurance use cases where big data has tangible value today. Underwriting using Twitter data is already as powerful as traditional question sets.
At Bought By Many, we've analysed the anonymised search data of 3 million UK internet users to identify where the biggest gaps are between consumer demand for insurance and the products being supplied by the industry.
Meanwhile social media data, particularly from Facebook, is hugely powerful for insurance distribution – not just for targeted advertising, but for understanding and serving people's unique insurance needs.
There is also a number of technologies which are mainstream in other sectors, but still haven't been fully adopted in insurance – programmatic advertising, even web analytics. The most egregious example is mobile.
75% of UK adults now use mobile internet; and yet encountering a mobile-optimised or responsively-designed insurance quote and buy process is still a pleasant surprise.
Perhaps this reflects insurance companies' bad experiences of developing apps that no one downloaded during the earlier phases of smartphone adoption; but surely getting mobile sorted should be a higher priority for insurers than launching an incubator. Mobile-first insurance startups like Worry + Peace and Cuvva can provide inspiration.
When it comes to technology, insurance isn't a leader, it's a follower. So it's in the smart application of maturing technologies that the biggest opportunity for insurance disruption lies.