Police pull Google car over for causing traffic tailback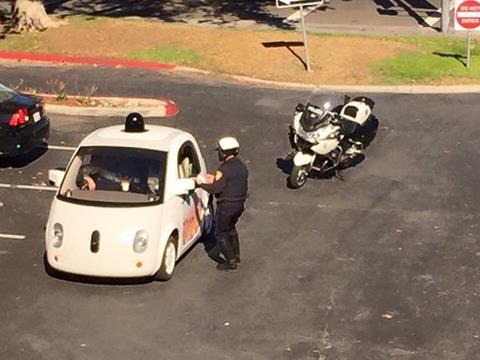 A self-driving car has been stopped by police for a traffic offence – driving too slowly.
The Google car – one of the vehicles which is expected to revolutionise the motor insurance market – was pulled over by a traffic policeman in California, just down the road from Google's headquarters.
The car was travelling at 24 mph in a 35 mph zone and causing a big queue of traffic, Google said. California has a minimum speed law to stop drivers impeding traffic.
The local police said: "The officer stopped the car and made contact with the operators to learn more about how the car was choosing speeds along certain roadways and to educate the operators about impeding traffic."
Self-driving cars are allowed on public roads in California, but only within 35 mph zones. Google was reported to have restricted its cars to 25 mph for safety reasons.
Google cars have been involved in accidents, but never found to be at fault. Of the 14 accidents so far, 11 have been rear-end shunts, where Google cars were hit by following cars, the company said.