Biba accolades for Insurance Times journalists
Insurance Times collected awards for its journalism at the Biba Journalist of the Year awards in London today.
Reporter Tom Flack won the Online Award for his forensic dissection of disruptor insurance company Lemonade's finances in the article "Lemonade by Numbers".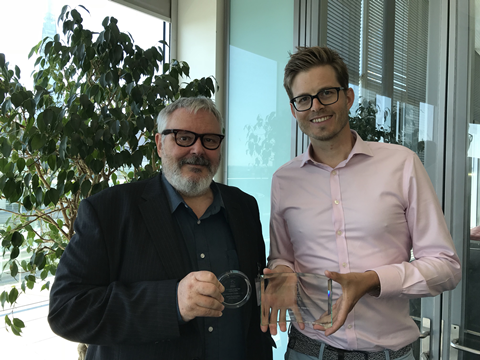 John Manley (left) and Tom Flack celebrate their awards at the Biba Journalist of the year Awards 2018
Former reporter Jennifer Frost won Highly Commended in the Most Promising Newcomer Award for her work while working at Insurance Times.
Insurance Times editor John Manley won highly commended in the Best Interview/Profile category for his interview with GRP chief executive David Margrett, "GRP's Margrett – Building momentum", outlining the consolidator's hub and spoke format, and detailing the group's continuing acquisition strategy.