Drug dealer pulled from wreckage with a giant ball of cannabis wins compensation in a landmark ruling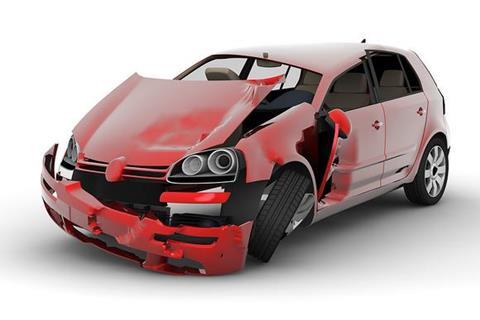 A pro-European court ruling in favour of an injured drug dealer means insurers can no longer avoid paying criminals involved in uninsured car crashes.
The Department of Transport, which has an uninsured driver compensation scheme operated on its behalf by the Motor Insurers Bureau (MIB), had fought against paying compensation to drug dealer Sean Delaney.
A football-sized block of cannabis fell out of Delaney's jacket as he was pulled from the wreckage of a 'very flashy' Mercedes near Nuneaton in 2006.
But a High Court judge, Lord Justice Richards, said today that the UK ban on compensating accident victims knowingly involved in crime violated a Brussels directive.
The ruling means that all insurance companies will now have to pay compensation to uninsured accident victims, even if they are involved in crime. Insurers pay into a Motor Insurers Bureau (MIB) funding pot to pay for uninsured vehicle crash victims.
Background to drug dealer's crash
Delaney, a father-of-four, of Bedworth, Warwickshire, was in a Mercedes 500 SL which crashed in November 2006.
He suffered life-threatening injuries, causing long-term disabilities and personality change, and has no memory of the accident.
He had 'gone for a spin' with his acquaintance, Shane Pickett, who lost control of the car at high speed after trying to overtake on a bend.
The car ended up in a garden, and its roof and passenger door had to be cut off to remove Pickett and Delaney from the wreckage.
A fireman found a package of cannabis hidden in Pickett's sock and, when Delaney was pulled out of the car, a block of 240 grams of herbal cannabis fell from his bomber jacket.
Pickett was handed a 10-month jail term at Warwick Crown Court in 2007 after admitting dangerous driving and possessing cannabis. However, no action was taken against Delaney.
He sought a multi-million-pound award, to pay for the lifetime of care he will need, but DfT lawyers fought every inch of the way to deny him a penny.
First ruling in favour of drug dealer
At the heart of the case lay the 'crime exception' enforced by the Motor Insurers Bureau (MIB), the body which compensates victims of uninsured drivers.
The exception bans compensation being paid to those who 'knew or ought to have known' that a vehicle in which they are travelling is being used 'in the course or furtherance of a crime'.
However, Mr Justice Jay ruled last year that the crime exception conflicted with the European Motor Insurance Directive and that the DfT's failure to ensure uniformity between UK and EU law was neither inadvertant nor excusable.
The judge said: "I conclude with little hesitation that the DfT's breach is so serious that… it must pay compensation to Mr Delaney. The law is clear, the Department is in serious breach of it, and there must be judgment for Mr Delaney".
He added: "Many readers may be wondering how it comes about that a drug dealer is entitled to compensation against Her Majesty's Government in circumstances where he was injured during the course of a criminal joint enterprise.
"The understandable reaction might be: there must be some rule of public policy, reflecting public revulsion, which bars such a claim".
But he concluded: "The short answer is that there is not".
Appeal
The ruling triggered an appeal from DfT lawyers. At the Appeal Court, DfT lawyers argued that the crime exception was justified and in no way incompatible with the directive.
However, Lord Justice Richards, sitting with Lords Justice Kitchin and Sales, today ruled that the judge was right and dismissed the DfT's appeal.
The DfT was refused permission to appeal further to the Supreme Court and was ordered to pay a £138,000 in interim costs. That is only a first instalment on Delaney's legal costs bills which are likely to exceed £250,000.
The amount of damages now payable to Delaney has yet to be finally assessed but, given the severity of his injuries and the extent of care and support he will need in the future, it is likely to to run well into seven figures.