Hard work and a light touch sum up the Ageas chief, who has steered his company to lucrative deals and into new markets. Steely Smith is confident that his expanding company will retain shape and focus, and has his eye on being a top 10 insurer by the end of 2012
Barry Smith is the consummate professional. The chief executive of Ageas, formerly Fortis, is one of the best-known figures in the UK insurance industry, with a high profile in business and lobbying groups as well as within the market itself. Over the past few months, interest in Ageas has increased as the insurer embarks on an aggressive and diverse growth strategy, as well as a rebrand. Naysayers are quick to suggest that Ageas will lose the streamlined efficiency that is one of its major assets – while admirers simply stand back and watch Smith go.
Things looked very different two years ago, when the wider Fortis group was mired in trouble as its European banking arm posted an £18bn loss. Three governments stepped in to save the bank, and subsequently its insurance operations became a standalone entity. Fortis Bank kept the name, hence this autumn's rebrand to Ageas.
It was a tough time for the insurer, and for Smith himself. The market buzzed with speculation, though Smith insisted that both he and the parent group remained committed.
He says that, as events have turned out, what happened in 2007-08 could be argued to have worked in Ageas' interest. He doesn't use the phrase 'phoenix from the flames', but you get the picture.
Clearly thoughtful
"We've had a bit of luck with the way things have ended up with the bank," he says this morning, bright and dapper at an early hour in Insurance Times' Cannon Street office. "We could never foretell what the end position would be because that was to be decided by others. I think we were always confident that the UK business would have a good destiny."
Smith weighs his words carefully. His comments are long and usually complex. He has a formal air and is clearly thoughtful and intelligent – two of several traits that have won admiration from contemporaries.
One says: "He's very driven and ambitious. He's made some good calls around acquisitions and has been a top performer among the insurance chief executives." This is a common perception. Ask a room-full of brokers and insurers who they most admire, and Smith's name will often be mentioned. He has had an illustrious career, including stints at AXA and AA.
Smith is also more than a successful businessman: he has worked hard as an industry spokesman and leader. Last year, he was president of the Chartered Insurance Institute (CII). He is also active within the ABI. For many years, he chaired the motor committee and he is now looking after household.
However, Smith's contemporary sounds a note of caution. "Some say that Ageas has expanded too much with narrow margin deals, and it will all end badly. Personally I don't know," he says.
It's not the first time this has been said. Smith is steering Ageas on a dizzying journey and some sceptics struggle to understand the new and more diverse business model.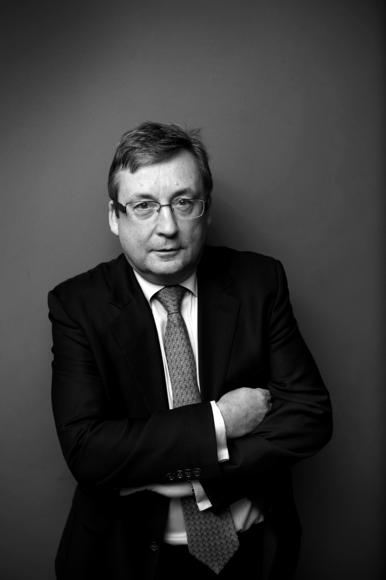 Quick growth
You can't blame them: the pace of change has been rapid. When Smith took the reins at Ageas, then Fortis, in 2001, the business focused on selling private car insurance through brokers, and was known for providing good service cheaply.
He was widely admired for his focused and efficient approach.
Smith wanted to expand, however. He widened Fortis' remit into other personal lines, and then ventured into commercial lines, employing Mark Cliff, a former colleague at AXA, as managing director of the non-life insurance business. In 2008, Smith launched a life business focusing on protection products.
Then, just as its banking parent was floundering in 2009, Fortis announced the affinity partnership with Tesco. Earlier this year, it surprised the market again with the £215m purchase of Kwik-Fit Insurance.
So what's going on? Smith says: "There's no doubt at all that over the years Ageas has changed in terms of its shape. What's very important to us is the way we're seen and the way we need to continue to deliver."
Is there a sense that Ageas is growing too fast and losing focus? Smith seems a little put out. "That's the first bad question," he complains. "We steer the business by having very light touch central functions." He explains that the business runs as separate units: general insurance under Cliff, and Tesco, life and the broking businesses all reporting to him.
Smith is keen to emphasise the faith the Ageas group has shown in the UK company. It stumped up for Kwik-Fit (£215m, less £30m that was sitting in the business, so £185m in total); offered £100m start-up capital for the Tesco venture; and put in another £100m capital for the life business. That's a near-£400m vote of confidence.
Smith doesn't mention – perhaps he is too modest – that he was also promoted to the group board at the beginning of the year.
The Tesco business, which Ageas started to underwrite this month, will be run as a standalone entity, with its executive team reporting to Smith. It will eventually have a premium of about £500m – more than half as much as the rest of the insurer's £900m base. Tesco, however, is known for making huge profits for itself, not its partners. Is Smith confident that Ageas will make money out of the deal?
"It's a separate company, and the standalone results will be published," he says. "The results will be clear for all to see." It's not a direct answer, but it signals confidence.
Similar to Tesco
What then of Kwik-Fit? The broker took several months to sell, with contenders ruling themselves out of the race early on. As one peer asked when the sale to Ageas was announced: "What does Barry know that the rest of us don't?"
Again, Smith displays steely confidence: "We think it is a very strong business, and a very capable team," he says. "We will invest to grow our insurance companies and distribute those products aligned to customer need. That's why the broker and affinity businesses are very important to us. The aggregator market is also very important, and our strategy should be 'how do we connect with the customer?' It is similar to Tesco: these are separate companies and the results will be posted separately, so people can judge for themselves their success or otherwise."
Smith still has ambition. Asked where he would like to see Ageas within the top 50 insurers – it's currently at 17 – he says: "At the end of next year, I wouldn't be surprised if we were in the top 10."
With his confidence, ambition and track record, nor would anybody else. IT