QBE European Operations has posted a solid COR of 91.3%, but subsidiary QIEL is suffering, with a ratio of 106%
On the face of it, Sydney, Australia-headquartered QBE has muscled its way into a highly competitive market over the last 10 years with some impressive results.
Helped by its strongly performing Lloyd's arm, QBE European Operations last year posted a decent combined operating ratio (COR) of 91.3% and an underwriting profit of £153m, up 12% from 2009.
But there's a part of the business, a subsidiary called QBE (Insurance) Europe Ltd (QIEL), that it would rather not talk about, at least not with Insurance Times. QBE declined to comment for this article, despite repeated requests for a response.
QIEL, which excludes QBE's Lloyd's operation, is relevant because just under half of its £1.28bn premium was written last year in the UK and the rest through offices across Europe. Its performance in 2010, by a COR measurement, was the worst out of all the major UK insurers: Aviva, RSA, AXA, Allianz and Zurich.
Recession pain
Back in 2008, QIEL performed well with a COR of 95%, but the economic downturn sparked a wave of recession-related claims. In 2009, COR deteriorated to 108.6% and improved marginally last year to 106%.
Rival insurers experienced similar UK claims hikes, but their COR still held up, such as Allianz (2010: 95.9%; 2009: 92.9%) and Zurich (2010: 99.7%; 2009: 100.1%).
So what explains QIEL's deterioration in COR? Was it writing business too cheaply? QBE would almost certainly rebut the suggestion had it agreed to comment. In a recent interview, QBE property, motor and casualty chief underwriting officer Ash Bathia said: "Ask any of my underwriters and they will tell you the one thing QBE does not do is chase the dollar."
Bigger reach, bigger risk
One factor that could explain QIEL's worsening COR is that the insurer has expanded outside its traditional third-party liability base, into areas that were badly hit during the downturn.
QIEL's records shows that "fire and other damage to property" was 9.8% of the portfolio in 2007, increasing to 15.8% in 2009, according to Companies House accounts. QIEL has also established a trade credit arm in recent years.
Chief executive Steve Burns said in the 2009 accounts that the "excellent results" of the UK liability portfolio was "offset by losses in property, trade credit and asset protection portfolios".
One broker believes that QIEL's limitations outside liability were evident in the failure of Evergreen. QBE bought the underwriting firm in 2009 as a base to expand in SME property. A year later, the business was scaled back and the brand dumped in the wake of a staff exodus.
The broker says: "They really threw the baby out with the bath water. They just decided to up the ante and double rates, and they lost their business. It was a shame, because it was a nice, tidy mid-market facility with a good reputation."
Other brokers seem to think QIEL writes too much business on individual risks. The idea is that it's easier to achieve a lower COR if you are writing package business: if one part makes a loss it can be offset by the better-performing coverage in the package.
Another broker says: "I believe they have started to try to forge a way with SME package business. That might improve COR."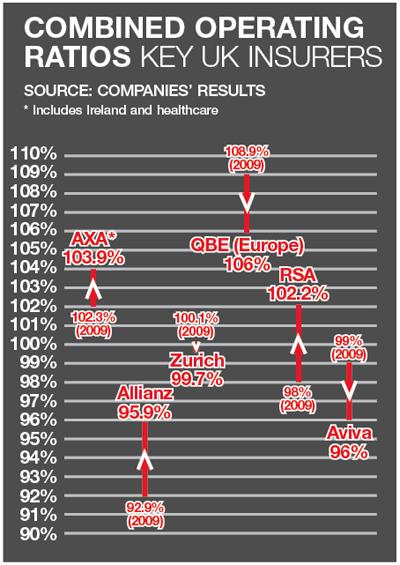 Meanwhile, QBE is guilty of calling the market wrong over UK rate rises. Burns said in the 2008 accounts: "We expect that we are now past the bottom of the cycle in most classes … We are confident that even the most competitive areas of our book, such as UK casualty, property and motor, will be showing rate increases by the end of the year." But Burns' optimism was misplaced: apart from motor, the UK market is still very soft.
The company has also suffered reserves deterioration and dwindling investment returns like other insurers. QIEL's profits suffered a 70% drop to £38.5m last year. The decline was caused by investment returns dwindling to £108.9m, down 40% on the £180.6m made in 2009. Underwriting performance suffered prior-year claims reserve deterioration in its run-off book in 2010, though it was far less severe than in 2009.

Time for change
QBE is not resting on its laurels, however. There has been a group management restructure, in which property head Bernard Mageean left to be replaced by the ebullient Ash Bathia. Bathia will play a big role in QIEL's strategy going forward.
Meanwhile, QIEL itself is part of the group's three-year plan, which began in 2009, to implement a new claims management system and create improved systems for storing and exploiting data. The improvements should knock around 2% off COR by 2012, according to QBE European Operations' annual report, released in March.
Despite these plans, though, the soft market in the UK looks set to drag on in 2011, which means QIEL is unlikely to get near the break-even point of 100% COR attained by its rivals. Bathia certainly has his work cut out for him.
From acquisitions to exits: the QBE timeline
2000
QBE makes a splash in the UK by acquiring Limit, which is comprised of Bankside Underwriting Agency Ltd and Lloyd's managing agency Janson Green Ltd.
2003
Limit buys Ensign Insurance's motor business.
May 2008
QBE's A$8.7bn takeover bid for rival Insurance Australia Group is rebuffed.
Dec 2009
QBE buys brokers' favourite underwriter Evergreen.
Jan 2010
QBE puts its private motor book into run-off and Markerstudy swoops to take a number of its staff.
Oct 2010
QBE dumps the Evergreen brand and scales back the business following a staff exodus.
Nov 2010
QBE's shocks the market by revealing that managing director of property Bernard Mageean will depart following a shake-up of its European business. His role is effectively taken over by Ash Bathia.
Feb 2011
QBE European Operations, which includes the Lloyd's business, posts a 2010 underwriting profit of £153m, up 12% from last year.
Mar 2011
QBE (Insurance) Europe Ltd (QIEL), which has a significant proportion of business written in the UK and excludes the Lloyd's arm, slashes its dividend as profits tumble 70% to £38.3m in 2010.
Trouble at the top
Bernard Mageean joined QBE European Operations as head of property in a blaze of glory in 2008, after a 32-year career with RSA.
He had a clear mandate: to grow QBE to a top-five property player. But it started to go wrong for QBE shortly after the acquisition of Evergreen in 2009.
In October last year, the business lost some of its key staff, and a decision was made to roll what was left of it into QBE. It was a blow for the insurer's property ambitions.
A month later, Mageean left QBE following a management overhaul. The property arm was handed over to casualty boss
Ash Bathia.
According to sources who worked at QBE at the time, the two men disagreed on strategy. Bathia won the backing of senior management.
Subsequently, his role was expanded and Mageean left the company at his request. QBE refused to comment, while Mageean said he was bound by confidentiality clauses.