The IT Pack's keynote speakers talked e-trading, USPs and the new FCA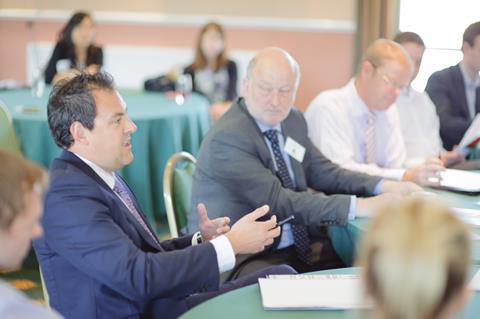 Matthew Stringer, Bloomhill Insurance Solutions:
Young brokers are in a better position to deal with regulatory demands than their older colleagues because it has been part of their careers from the start, according to Bloomhill Insurance Solutions managing director Matthew Stringer.
"It's not like we've been in the industry for 20 or 30 years, then all of a sudden there's been a big overhaul and things need to change," he said.
Strict regulation has helped raise the standards and profile of the industry as a whole. "My opinion on regulation is that it is a good and positive thing: I think it has already got all the worms out of the industry," he explained.
Fighting the FSA was not an option for brokers, Stringer argued. "I think the people that did battle it are probably no longer trading. The FSA is a force to be reckoned with."
He added that it was important to stay in contact with the FSA, because gaps in communication could lead them to investigate.
"If they don't hear from you, it's likely they will just turn up on the door, but if they can see there is a transaction trail where you do phone if you have a query, I think there is less chance of having them just turn up," Stringer said.
The regulatory issues for a start-up broker are huge, but he added: "If you want something enough, you can make a plan and make it happen."
Robin Wood, RWA Associates:
Selling insurance online increases the risk that a broker can get sued, RWA Associates' Robin Wood believes.
Part of the problem, he said, is that online insurance sales are often rushed. This leads to clients suing when a claim is denied, on the grounds that they were not given enough information to fully understand the risk.
"If you talk to any broker these days, online is about doing it quickly and making money out of it," he said.
Brokers and insurers could avoid this risk by better educating their clients, he added.
"If we can give them information in advance that says quite clearly, A, read this, and B, this is what it means, that will help the problem."
Wood sees the industry moving towards a model where commercial insurance will be sold by the broker having a telephone conversation with the client, while communicating online with the insurer.
The industry needed to educate clients to pay extra for online insurance, he added, and not be bowed into competing with aggregator prices.
Wood also said that qualifications and competence were not the same concept. "I think everyone should be qualified, but it has nothing to do with competence," he said. "Competence is about knowing, understanding and being able to apply it."
David Partington, Towergate:
Brokers starting out face the toughest ever market conditions, but can differentiate with their product knowledge, Towergate Broking managing director David Partington said.
"The economy is difficult: where the clients are still in business, the market is incredibly tough, incredibly competitive," he said.
Product knowledge mattered because this is often seen as a unique selling point by the customer, said Partington.
"Often you explain to the client, in their terms, what you are selling - that becomes a USP, because they often didn't know they had all those things previously."
Partington saw the opportunity to develop in the insurance sector as unrivalled. "It's still the case - there is a dearth of talent in the industry," he explained.
Partington also spoke about how the history of UK regulation has not helped brokers with cross-selling.
"If you go back 20-25 years, the prospect of doing the guy's life and pensions and doing his GI absolutely existed, and it was almost business as usual, but the split in the regulatory environment has not helped the industry at all because people are just scared to talk about it."
Cross-selling is important, but it should also be a normal part of broking, Partington said.
"It is almost disappointing that is needs to be a mantra."
Steve White, Biba:
A lack of resources at the Financial Conduct Authority (FCA) is likely to lead to a reduction in dedicated insurance broker supervisors, according to Biba's head of compliance and training, Steve White.
"The FCA is not going to have any more resource than the FSA has got today," said White. "That means they have got to use their resources more cleverly than they have in the past."
Around 5% of brokers have dedicated FSA supervisors, and the remaining 95% rely on the FSA call centre, he said. The regulator is building data manipulation software to assess and analyse the information on the brokers without supervisors, he added.
The current regulation of insurance brokers was inappropriate, disproportionate and overly costly, White said.
He pointed to Biba research that showed insurance brokers brought a direct and indirect value to UK GDP of 1%.
"One percent of GDP should entitle us to something more proportionate from our regulator than what we have got," he argued.
White also said that payment protection insurance mis-selling complaints to the Financial Ombudsman Service were soaring this year. "For the last three or four months, the Ombudsman has been seeing around 5,000 new complaints every week," he said.
Soundbites
Top of the world
"It's the best industry, bar none, in the world. There's no other industry where you get as close to every part of your client's operations as you do in insurance." David Partington, Towergate Broking
Not so scary
"When I first phoned the FSA, I was worried that these people in an ivory tower in Canary Wharf would come and shut me down because I had asked a question, and it isn't like that." Matthew Stringer, Bloomhill Insurance Solutions
Caught in the storm
"What's driving the big increase in levies is mis-selling of payment protection insurance. It is a tsunami of mis-selling complaints." Steve White, Biba