Aon's Case says new Cheesegrater HQ is 'commitment to London and UK'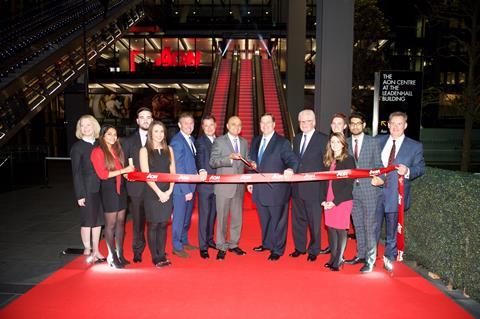 Secretary of State for Business, Innovation and Skills Sajid Javid MP hailed the insurance industry's commitment to promoting apprenticeships.
Celebrating the official opening of Aon's new London headquarters, Javid said: "Aon know that apprenticeships make business sense. That's why they are helping to design and deliver new higher apprenticeships that open doors into the insurance industry."
And he added that the government's programme to create three million high quality apprenticeships by 2020 "is a commitment to helping young people across the country fulfil their potential and get the future they deserve."
Aon chief executive Greg Case told the gathering of over 200 insurance apprentices, insurance industry bodies and insurance executives that the new headquarters in the Leadenhall Building, otherwise known and the Cheesegrater, "is a physical representation of our commitment to London and the UK"
But he added that, much more important is Aon's investment in apprenticeships: "the young talent who will lead our industry and our economy in the future".
"Which is why Aon has taken a leading role in bringing together the insurance industry to double the number of apprenticeships and create the rigorous standards necessary to develop high quality careers."
The photograph shows: Rt Hon Sajid Javid MP, Secretary of State for Business, Innovation and Skills, joined Greg Case, Global CEO of Aon, John Nelson, Chair of Lloyd's of London, Manchester United legend Bryan Robson and Aon apprentices to open Aon's new global headquarters in the Leadenhall Building.