Premium content: Insurance professionals welcome Prime Minister Theresa May's plan for a phased withdrawal from the EU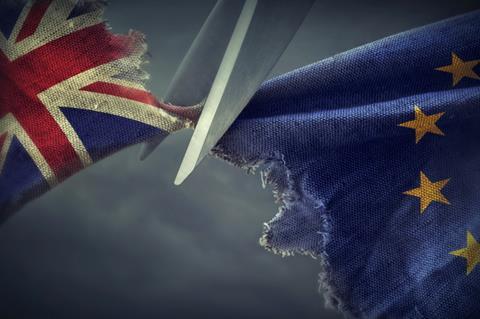 Insurance professionals welcomed Prime Minister Theresa May's reassurance that she would avoid a "cliff edge" Brexit for financial services, but they complained about the lack of a detailed timetable for any phased withdrawal.
In a key speech today, May outlined the government's stance on Brexit, confirming that the UK will withdraw from the EU single market. She said the UK "cannot possibly" remain within the single market, as staying in it would mean "not leaving the EU at all".
But she promised a phased withdrawal to allow financial services including insurance time to adapt, and said the government will negotiate to retain the "greatest possible" access to the single market following Brexit.
Insurers have been concerned that Brexit will mean losing passporting rights that allow them to trade freely throughout the EU, and have complained about a lack of transparency in the government's Brexit planning.
ABI director Huw Evans welcomed May's speech, and the phased implementation of Brexit, but called for the terms of any settlement affecting insurance to be settled as early as possible.
"The Prime Minister's speech has provided greater clarity on her Brexit aims as we head toward the triggering of Article 50," Evans said.
"Her commitment to a phased implementation process is welcome but providers still need as much as possible resolved at the beginning of the negotiation process to minimise uncertainty for firms most affected by loss of automatic single market access.
"The ABI will also continue to press for a UK regulatory regime that becomes suitable for the British market, successor arrangements for passporting, swift agreement on labour market access and a harmonised data regime."
Biba executive director Graeme Trudgill also welcomed May's announcement that the government will seek a transitional period to allow firms to adapt to the changes in the marketplace and regulatory structures.
"We're calling for a period of five years as a sensible period for transition," Trudgill said.
"We're pleased," he said. "We said there should not be a cliff edge, and the prime minister got that message."
Keith Richards, managing director of engagement at the CII, said there is "a widening wall of nervousness" in insurance about Brexit
"Economic confidence across the insurance profession is at its lowest level since 2011 and nearly half (48%) of those working in insurance expect the economy to deteriorate in 2017," he said citing CII research.
But he welcomed the fact that May has placed "building certainty where we can" as her first principle for negotiations, and he said the objective of seeking a "phased implementation" period following negotiations "seems to partly deliver that" as a way of avoiding "an economic and legal cliff edge".
Phasing in the Brexit process should "give firms that much needed breathing space to consider what the new EU-UK partnership could mean for them," he said; though he noted that May neglected to mention anything about time limits.
Ivor Edwards, corporate insurance Partner at law firm Clyde & Co, commented: "Her specific focus on maintaining freedom to provide financial services across borders and talk of a phased approach will be welcomed by insurers and other financial services firms, all of whom crave clarity, stability and a sense that their interests are being represented. On that basis many will simply be relieved that the phoney war is nearly over."
He said that while the UK insurance industry is robust and will survive Brexit, it won't be unaffected or remain unchanged.
"Whatever the precise outcome of negotiations, insurers won't wait-and-see," he said.
"Planning for Britain's exit from the EU is well underway as insurance carriers believe they need to take concrete steps for all eventualities by setting up carrier companies in EU27 countries," he added.
"It's not only UK based companies that are affected and who are making plans. There are over 500 general insurance companies headquartered in continental Europe who passport into the UK that need to take steps too."