CII creates Ciindy to help clear up motor insurance queries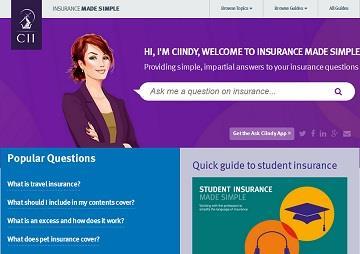 Motorists are baffled by their car insurance, and one in four, equating to more than 8.7 million drivers, have no idea what cover they have, according to the Chartered Insurance Institute.
More than a third of motorists (34%) wrongly believe that if they have an accident while driving another car, their comprehensive insurance will pay for the damage, while 35% think that if they sneeze and cause a crash, their insurance won't cover it.
The CII said its new website will give consumers impartial, easy to understand information about insurance, and clear up any confusion.
The CII has created Ciindy, an online character to answer questions about insurance.
"British drivers are frequently baffled by insurance, with many having no idea what they are covered for," said David Ross, director of communications at the CII.
"Should the worst happen, this could mean that consumers are left out of pocket or they end up paying for cover twice because they never knew they had it."