Global reinsurer to buy back €1bn of shares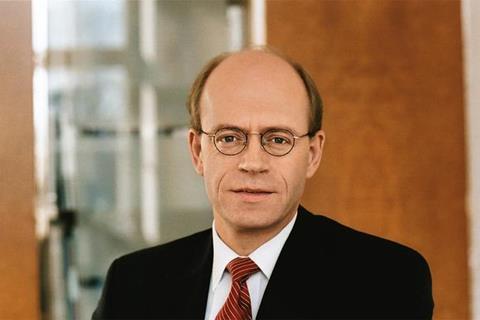 Munich Re is targeting a profit of between €2.3bn and €2.8bn (between £1.8bn and £2.2bn) for 2016.
This is lower than the €3.1bn profit the global reinsurer made in 2015, which it described as a "pleasing result".
Outgoing Munich Re chief executive Nikolaus von Bomhard (pictured) said: "On account of continuing low interest rates and intensive competition in reinsurance, this is an ambitious target – especially because we cannot expect to see a repeat of the below-average expenditure for natural catastrophe claims that we had in 2015."
Munich Re also announced that it is to buy back €1bn of its own shares by next year's AGM on 26 April 2017. Based on the current share price, this equates to 5.4 million shares, or 3.2% of the reinsurer's share capital.
The company has an existing share buy-back programme, which will run up until the 2016 AGM on 27 April. The reinsurer has bought back 5.2 million shares worth around €890m under this programme.
Munich Re announced yesterday that von Bomhard, who has run the reinsurer since 2000, will be stepping down on 26 April this year.
He will be replaced by Joachim Wenning, head of the reinsurer's international life reinsurance business.