The move follows the merger last year between Bollington Insurance and Wilson Insurance
Bollington Wilson Group has moved to a new 27,000 square foot headquarters in Manchester as plans to make room for 100 new members of staff.
The new headquarters at Clipper House was officially opened on the 7 November by British Lions rugby union star Mark Cueto MBE.
The move follows a merger last year between Bollington Insurance and Wilsons Insurance.
It said it is going through a period of "unprecedented growth" which it will continue from the new premises.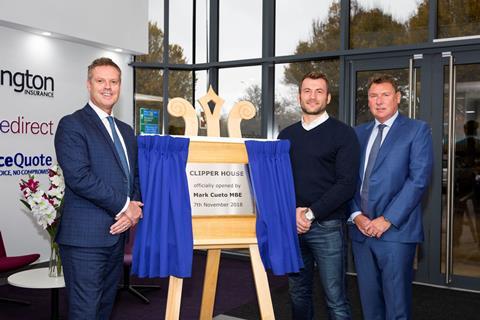 Bollington Wilson Group's chief executive, Paul Moors, said: "We are now in an enviable position of having a diverse, successful base from where we can grow organically and through acquisition. To accommodate this, we have had to reassess our office spaces and Clipper House was an ideal new additional location for us."
He explained that Bollington has had several years of solid growth expanding on its core areas of corporate insurance, motor trade and care insurance, into a specialist niche and affinity insurance broker.
Moors added: "Building on this we wanted to expand our offering and increase our market share, which resulted in the merged operations with Wilsons Insurance Group."
He said that "employee engagement and wellbeing" has been a big focus in the firm's expansion which the move has facilitated by also benefiting how teams work together.
New staff
The new office will accommodate the relocation of all staff from Bollington's corporate insurance office in Altrincham, Greater Manchester.
This includes some departments from an existing office in Cheshire.
Clipper House will be home to over 200 of its 450 employees.
Of the 100 jobs it plans to recruit for 16 are currently live, with more planned across Cheshire and Greater Manchester.
The firm will continue to operate from its Cheshire and Liverpool locations.
Post-merger, the firm controls premiums in excess of £150m, serves 140,000 customers and a further 7,000 via its underwriting company.
It maintains its existing brands, Bollington Insurance, ChoiceQuote, Quoteline Direct and Wilsons Insurance.
Subscribers read more
Get your tickets to Cyber Insight here