The business found 'it difficult to acquire customers in a highly competitive space' as well as rising inflation
Durham-based insurtech startup and reverse auction marketplace Honcho is closing.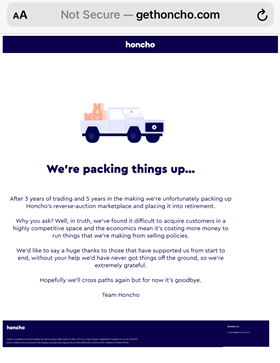 According to a note posted on its website, the insurtech is "packing up" five years after it was founded – Honcho initially experienced funding difficulties and only began trading two years after it was founded.
The note from team Honcho said: "We're packing up. After three years of trading and five years in the making we're unfortunately packing up Honcho's reverse auction marketplace and placing it into retirement.
"Why you ask? Well in truth, we've found it difficult to acquire customers in a highly competitive space and the economics mean it's costing more money to run things that we're making from selling policies.
"We'd like to say a huge thanks to those that have supported us from the start to end, without your help we'd have never got things off the ground, so we're extremely grateful.
"Hopefully we'll cross paths again but for now it's goodbye."
Solving a personal lines issue
Honcho was was founded by Gavin Sewell and Frank Speight, who served as chief executive and commercial director respectively – it was incorporated in August 2014.
The insurtech aimed to become a reverse auction marketplace for personal lines distribution and bring buyers and sellers of insurance into a competitive marketplace for consumers' business.
The pair set out with the idea that the personal lines insurance distribution is flawed as consumers often choose the cheapest product on the aggregator website. However Honcho's reverse auction model solved this.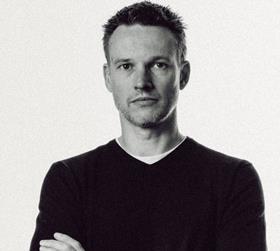 Honcho's customers were able to choose their level of cover and policy features before insurance providers bid against each other to provide competitive insurance quotes.
The idea for the firm came about due to Sewell's rock-climbing injury, which led him to take a trip to his chiropractor to rectify his bad back.
The trip was a chance encounter for chief executive, with his chiropractor later introducing Sewell to a serial entrepreneur named Hossain. Sewell was then inspired to set up something mobile with the aggregation of insurance.
The business came about as Sewell realised that electronic trading could be applied to the distribution of insurance.