Figures reveal a surge in insurance patents as firms look to innovate
Telematics, machine learning and P2P (peer-to-peer networking) were among the most popular insurance patents issued globally last year as new issuances soared.
RPC revealed 119 (22%) pricing patents were filled in 2017, and in telematics this was 78, up from 56 in 2016. Both of these have been "key areas" of focus as insurers seek to make cost analysis and risk modelling more accurate.
And there has been a "sharp increase" in patents relating to machine learning (100 in 2017, up from 73 in 2016), and P2P, which had 62 new patents in 2017 up from 52 in 2016.
The law firm said that the increase in insurance-related patents demonstrates the industry embracing AI.
The findings come as a result of RPC revealing that the number of insurance related patents filed worldwide jumped by 40%, from 657 in 2016 to 917 last year.
Overall insurance patents per annum have increased by 116% over five years.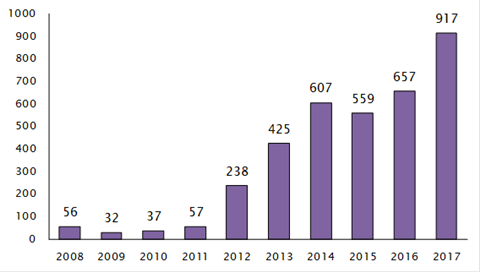 Competitive advantage for insurers and brokers
It said that insurers and brokers now have "significant opportunities" to carve out a competitive advantage through technology as the uptake of automated processing has been slower in some parts of the insurance industry as opposed to other areas of financial services.
Paul Joseph, partner at RPC said: "The rising number of insurtech patents shows just how important technology now is to insurers in increasing efficiency, delivering a better user experience and developing brand new products.
"Insurtech is touching all areas of the market from P2P retail insurance products to ever more sophisticated risk analysis capabilities."
Patents filled
RPC explained that those filed last year were for innovations such as the use of a system that checks whether a self-driving car is operating autonomously switching between policies automatically to speed up the claims process.
The most frequent filers of insurance-related patents last year included US based Allstate Insurance and Lemonade's rivals State Farm, filing 34 and 35. As well as China based, Ping An Insurance which filed 23.
Outside of traditional insurers, Chinese e-commerce firm Alibaba filed eight insurtech patents last year.
Joseph added: "Whether insurers are engaging in proprietary research and development (R&D) or collaborating with smaller players, protecting intellectual property (IP) rights by securing patents is clearly essential to secure that first mover advantage and stay ahead of the competition."
RPC is a Tower Bridge based professional services firm offering both legal and consultancy advice to a range of sectors.
Subscribers read more
Ex-Aviva director going full steam ahead with recruiting brokers to big data platform