'First, we would like to establish and build our brand in the UK and Europe,' says chief growth officer
Quantee's chief growth officer Mateusz Gintrowski has said the Poland-based insurtech is looking to further establish and build its brand in the UK as part of expansion plans.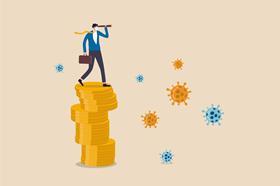 The business has been targeting the UK market for nearly a year – as part of this, it also opened a new UK office.
It also partnered with Insurtech 50 firm Socotra at the beginning of May to take its platform global.
Speaking to Insurance Times at Biba's conference in Manchester last week (10-11 May), Gintrowski said: "First, we would like to establish and build our brand in the UK and Europe – particularly Spain and central Europe – as those [markets] are more advanced in terms of pricing.
"We'll [also] probably pick some markets beyond Europe to focus on, most likely Asia or Latin America.
"For that, we will probably be raising additional funds – that should happen in the first half of next year."
Market
Quantee aims to help insurers, MGAs and insurtechs improve the granularity and accuracy of pricing models.
The insurtech aims to fill a gap in the market for insurance pricing solutions that are more convenient and flexible.
For Gintrowski, this process is "very fragmented". He continued: "For such a large industry like insurance, the fact that there are few providers of providers of pricing software that have software that is 20 years old plus is a phenomenon that doesn't meet [the industry's] current needs in terms of sophistication."
In terms of where the insurtech was looking to grow, UK and Ireland sales director Scott Holmes said: "Anywhere where there's a bit of volume, or a bit of sensitivity in price.
"[In the] UK, we've got price comparison websites – [cover] like motor, home, pet and travel insurance is very price sensitive and it's becoming more so, with the current economic challenges that we have here and the difficult margins that brokers, MGAs and insurers have to work to.
"We are seeing an increasing need for a solution like Quantee to help get that price right.
"It's a good time to be in the market really."
Gintrowski added: "We aim to help insurers become more agile, react quicker and deliver better pricing models and personalised pricing."