The insurer says these types of storms are becoming 'commonplace' in the UK
Insurer Zurich has seen a huge surge in claims over the weekend following Storm Arwen, with call volumes 15 times higher than we would ordinarily expect".
The storm, which hit the UK at the end of last week, left tens of thousands of homes in the north of England without power for three days as it brought down trees and electricity lines, according to The Guardian.
Electricity network operator Northern Powergrid said the storm had caused the most extensive damage to its network in 20 years, initially leaving 240,000 households across north east England, Yorkshire and Lincolnshire without power.
The Met Office reported on 27 November 2021 that "some of the worst impacted areas include Aberdeenshire, Angus, Perthshire and the Moray coast. Wave hights of 11m were recorded in the outer Firth of Forth".
The national meteorological service's chief meteorologist Steve Ramsdale said: "Storm Arwen has delivered some dangerously strong winds overnight, with gusts in excess of 90mph recorded and sustained windspeeds of over 60mph."
Parts of northern England, meanwhile, saw temperatures plummet to below zero during the storm event - the Met Office recorded the lowest temperature of the season so far in north west England (-8.7 degree Celsius).
A Zurich spokesperson said: "We've seen a surge in claims from Storm Arwen over the weekend, with call volumes 15 times higher than we would ordinarily expect. Our phone and online claims channels are also extremely busy today (29 November 2021) and we've made more support available to ensure we can help customers as quickly as possible.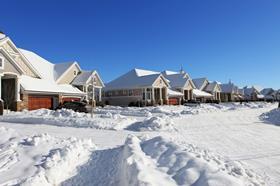 "We've seen an early spike in domestic claims, but as the week goes on we expect claims across our market facing units.
"Although still early, we're not aware of any large losses yet, with many of the reports related to windstorm damage to roofs. The worst affected regions appear to be Scotland and the north east, where the most severe weather warnings were issued."
Supporting claims
Meanwhile, Mark Butler, head of home claims operations at RSA Insurance, added: "Storm Arwen sadly caused significant destruction across the UK, undoubtedly leading to a lot of distress to those affected - insurers across the market will be working hard to process claims.
"We put extra resources in place ahead of the storm in anticipation of increased demand, but, if you're struggling to get through to your insurer and your claim isn't urgent, consider submitting your claim online where possible.
"Please rest assured that your insurer will be able to guide you through it and will do everything [it] can to support you at this difficult time."
Zurich's spokesperson continued: "These types of storms are becoming commonplace in the UK. It's crucial that we help customers to better prepare for catastrophic weather events and enhance their resilience to them.
"That's why we've transformed the way we handle claims to better respond to more frequent and severe weather fuelled by climate change. In an industry first move, we now inform flood-hit customers of simple changes they could make to reduce their vulnerability to future flooding.
"We also offer free counselling to people impacted by extreme weather events. Under the service, customers who are forced to make a claim can access five counselling sessions with a qualified mental health expert."
Click here to take part - all brokers that take part will receive an executive summary of the full report and be entered into a prize draw to win £250 John Lewis vouchers