Insurer launches full-cycle platform for commercial brokers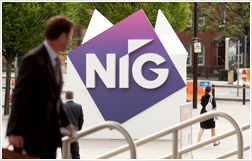 NIG has launched a new full-cycle e-trading platform called TheHub.
The service offers quote, buy and renewal facilities to commercial brokers and replaces nignetwork.com.
Initially, brokers will be able to trade four products on TheHub - residential landlords, commercial landlords, tradesman and professionals - with more products set to become available over the year.
Brokers will also be able to move between the old and new systems and still be able to transact existing products.
NIG director of broker etrade Ben Thornton said: "Our e-trading proposition has been designed through extensive consultation with brokers and is built around their needs. We believe TheHub will help them win and retain more business as well as deliver an improved service. We've designed it to be straightforward and intuitive to use, saving time for brokers, and helping them focus on growing their business.
"E-trading has always been a core competence for NIG and we've continued to invest in and develop our packages and e-traded business. We will work with brokers to make sure they and their business get the full benefit of our investment."
NIG managing director Jon Greenwood said: "We've always been proud of the strength of our e-trading offering, but this new proposition will enable us to reach the next level of service excellence. We have built a quality offering and I'm very excited about the prospects for the year ahead. The commercial insurance industry is continually developing, and our ability to listen to brokers and react boldly to match their needs is something that we see as a core characteristic of NIG."