FOS cuts non-PPI insurance complaint estimate to 31,000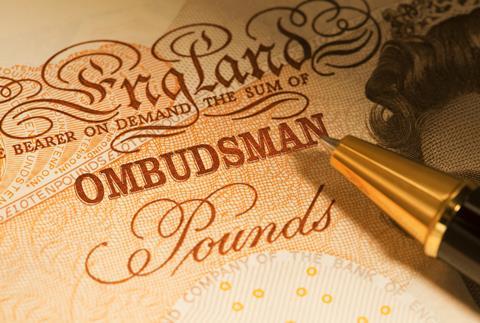 The Financial Ombudsman Service (FOS) is proposing to freeze its levy on the financial industry for the second year running in the 2015/16 financial year.
The FOS also said that it expects insurance complaints not involving payment protection insurance (PPI) to fall to 31,000 in 2015/16, down from the 33,000 forecast for 2014/15, but that complaints in 2014/15 will be higher than previously forecast.
Frozen levies
The FOS said in its plans and budget consultation paper, released this morning, that it planned to maintain the total money it receives from the financial services industry at its current level of £23.3m.
It will also freeze the case fee payable by companies after the 25th case at £550, and for the second year running will continue not to charge a supplementary fee for tackling complaints about payment protection insurance (PPI).
FOS interim chief executive and chief ombudsman Tony Boorman said: "For the last few years our focus has been on building up our capacity to meet the unprecedented challenges of PPI.
"The investment we have made in scaling-up and developing our service is now paying off as we plan for another year of record activity, resolving twice as many PPI cases as we receive. But we're not out of the PPI woods yet.
"While we expect the volumes of PPI complaints to decline, the numbers are still likely to be substantial. Our plans take this into account – but we will still be relying heavily on the patience of consumers and the co-operation of businesses before we will be able to draw a line under the PPI saga.
"Across all of our work we continue to hear that people's dealings with financial businesses remain strained, suggesting a lot more work is required to restore consumer trust in financial services."
Complaint forecasts
The FOS also revealed that it expects 31,000 new non-PPI insurance complaints in 2015/16. This is down from the 33,000 forecast for the current financial year of 2014/15.
However, the 2014/15 forecast is 3% more than it had assumed in its 2014/15 budget.
The FOS said a key trend in complaints across the different areas of insurance is consumers feeling something has not been explained to them – or, at least, not in a way that they understand.
The FOS said in its budget: "We see this regularly in complaints about "non-disclosure" – where consumers feel that insurers have not been clear about exactly what they wanted to know. Another typical complaint is that consumers do not feel they are kept informed while their claims are being considered and settled."
The FOS added that rejected claims also lead to a "significant" number of complaints.
It said many of the cases involved consumers feeling a claim has been turned down on the basis of a term or condition in the policy that they believe is not relevant or significant to the claim.
Consultation period
Companies have until 16 February to respond to the FOS's proposed 2015/16 budget. It will be put to the FCA for approval in March.
Join the debate at our Insurance Times Regulation Forum on LinkedIn