Departures follow broker's takeover and restructuring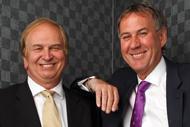 Towergate founder Peter Cullum and former chief executive Andy Homer have stepped down from Towergate's board.
A Towergate spokeswoman confirmed the departures but declined to comment further or give more details about the composition of Towergate's new board without Cullum and Homer.
The departures follow the completion of the company's takeover and refinancing on Tuesday, which has seen the company's unsecured debt-holders take a controlling stake in the firm.
Cullum and Homer's exit marks the end of an era for Towergate. Cullum founded the broking group in 1997. He was joined by Homer in 2002.
Cullum was Towergate's chairman until private equity firm Advent bought a stake in the broker in 2011 as part of a refinancing. He was replaced by current chairman Alastair Lyons in April 2011, but remained on the board.
Homer was replaced as Towergate's chief executive by Mark Hodges in October 2011. Homer also remained on the board.