What do SMEs want from their brokers? How can brokers best serve SME needs? What are best ways brokers can approach SMEs for new business? The latest Datamonitor survey on the sector answers all these questions and more
In the land of SME, the broker is still king. Datamonitor's latest SME survey, published first and exclusively in Insurance Times, canvasses the opinions of 300 UK businesses and reveals a lot of good news for brokers.
The message is that, despite the tough times, the majority of SMEs prefer to deal with their brokers rather than go direct to an insurer (fig 4). Of the businesses surveyed, nearly three-quarters (73.2%) used the broker channel to arrange their commercial insurance.
Unsurprisingly, this figure is higher for medium-sized businesses (75.3%), which generally have more complex risk requirements, and lower for micro businesses (64.7%).
Brokers will also be heartened to hear that, although commoditisation has grown in the SME market, this is not yet on the scale of personal lines.
Despite the push by insurers to promote their direct offering online, SMEs still value the specialist knowledge and skills offered by the middle man.
There are warning signs, however. The survey demonstrates that the proportion of SMEs going direct to insurers has increased by 8% since 2009, showing that insurers have upped their game when it comes to offering and tailoring products that meet their requirements.
However, the survey's author, Datamonitor analyst Stephen Ko, believes this trend is likely to plateau as the majority of SMEs opt for a broker over other competitors.
"We will still see an increase, but perhaps smaller, and although it is becoming more apparent to companies that they can go to banks or insurers, I think there will be a big portion of the market that will continue to require a broker."
Brokers continue to beat the banks, however. Only 2.5% of medium-sized enterprises and 4.7% of small SMEs in the survey arranged their insurance through their bank, while no micro SMEs bought their insurance through banks. "Insurers have been offering prices or services with which the banks cannot compete," Ko says.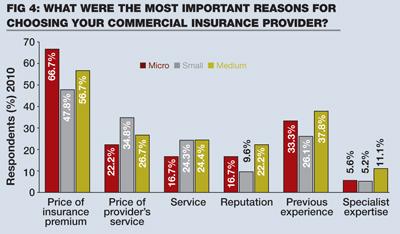 Value of trust
The survey shows that trust is still the vital ingredient for a successful broker/client relationship. This is reflected in the finding that the highest proportion of SMEs (41.3%) had arranged insurance with a provider based on prior experience, showing that they trusted their broker to get the right deal for them.
Word of mouth remains a major influence on decision making, too. More than a fifth stated that their decision to arrange insurance with a provider was based on a referral from a friend or colleague. Only 16% of the SMEs surveyed based their decision on information sourced from the internet.
Unsurprisingly, price continues to be the most important factor for SMEs when buying insurance. Most (52.9%) saw the price of the insurance premium as one of the most important factors when selecting a commercial insurance provider. This is even more evident in the micro SME sector, where two-thirds highlighted price (fig 4).
But while micro SMEs placed most importance on the price of the insurance premium, medium-sized enterprises – often more capable and focused on adapting or expanding the business – were more concerned about the flexibility of their commercial insurance policies.
In SME world, however, it seems that size doesn't count. Very few SMEs based their decision to buy insurance on the size of an insurer, with only 4.9% saying this had an influence on their decision.
There has been a dramatic increase in SMEs buying packages with additional services such as risk management or legal advice.
In the fourth quarter of 2010, 18.8% of small or medium enterprises bought these packages compared with 2% in the second quarter of 2009.
Added value
According to Ko, this may indicate the ongoing effects of the recession and SMEs' thriftier outlook. Insurers are trying to differentiate themselves in the marketplace by promoting packages that include additional services.
While the cost of the products may be the same as those offered by the banks, these extras attract businesses that are increasingly looking for more value for money. Brokers that opt to promote this type of package stand to benefit from the increased savvy of customers.
However, 36.8% of SMEs do not receive any additional services from their insurance provider. This suggests there are opportunities for both insurers and brokers to promote the benefits of add-ons such as risk management in packages.
Interestingly for brokers, the survey offers a clue on how the middleman can gain an edge over the competition. Risk management has overtaken legal services as the most popular additional service in demand by SMEs, suggesting brokers with expertise in this area stand to benefit.
"SMEs are becoming more aware that if they change their practices, they cut the risks of any undesirable incident happening, so risk management advice is very welcome," Ko says.
The research shows that face to face contact is still very much in vogue, but SMEs are more willing to consider alternative methods of transacting business.
Ko explains that as a result of some SMEs' desire for complex advice, the face-to-face channel remains the most popular distribution method.
But businesses are increasingly likely to consider using the alternative distribution methods of online or telephone call centres, citing speed, convenience and price as the main reasons for doing so.
Interestingly, telephone call centres have overtaken online channels in popularity when it comes to buying employers' liability, commercial property and liability insurance.
Ko explains that this may be because many customers are becoming more risk aware and prefer the security of business transactions over the telephone rather than online.
Despite the tough times, the research shows that brokers will continue to reign supreme in the SME market if they continue to play their cards right by identifying new strategies and emerging trends. IT
A broker's view on the findings
It's a great comfort to see that the broker channel has almost three-quarters of the SME business placed through it as a distribution channel. Brokers have a key role in the distribution of all insurance products in the UK.
The use of the internet to research or source the provider is no surprise as this has become one of the main ways people look for products and services. But what is comforting from a broker's perspective is that 62.4% of information is sought from the customer's own experiences or from the referral of a contact.
Brokers can be positive about this research. It is in our own hands to reinforce the value of dealing with brokers for SMEs to buy insurance.
There has been an increased propensity for brokers to streamline their SME propositions and in some circumstances to replicate the direct insurer models. There are pitfalls here, as we could lose our distinction from our competitors.
Brokers must add value, they must differentiate themselves from the banks, the direct writers by demonstrating what they can do. Where we don't add value and we don't demonstrate the knowledge and provide the advice, we leave ourselves open to be differentiated only on price. This differentiation of the services we provide will protect the market share of distribution. It will go hand in hand with other industry drives to increase professionalism and the perception of insurance broking within the SME sector.
There will always be challenges to our business model as brokers, but none of those competitors will have the ability to do what we do. Our major risk is that we forget what we do best.
As guardians of this sector, we are in a unique position to ensure we use technology, ways of communication and other opportunities that may come forth to enhance what brokers do and to deliver it better. We should never ignore the benefits of dealing with a broker and always ensure we shout about the value we add.
Adding value to SME clients is the only way the broker channel can protect its foothold for these classes and to ensure it retains its position as the main method of distribution for SME insurance in the UK.
Neil Grimshaw, managing director, Ravenhall Risk Solutions