Inaugural awards celebrates use of technology to drive business forward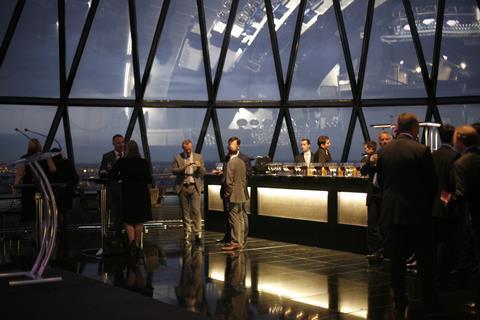 The inaugural Insurance Times Technology in Insurance Awards 2011 at 30 St Mary Axe aimed to find and reward the top companies and initiatives in the sector.
"As technology revolutionises the ways in which the world communicates and transacts business, the insurance industry can no longer afford to be left behind," said Insurance Times editor-in-chief Ellen Bennett. "This conversation needs to move off the back pages, and into the headlines."
The first award went to Ingenin, who scooped the Newcomer of the Year prize after launching at the beginning of April.
Ingenin has already created several initiatives to help the insurance industry. The firm launched Patriot, anti-fraud software to help cut claims fraud for mobile phones, tablet computers, sat navs, MP3 players and laptops.
The firm estimates this type of fraud could cost the industry tens of millions of pounds a year, and hopes that Patriot can cut the cost to insurers.
"Tonight we pay attention and recognition to the smart and innovative projects and the people who deliver them," said Celent European Insurance senior vice-president Catherine Stagg-Macey. Celent partnered with Insurance Times on the awards.
The Outstanding Business Partner award was scooped by HOV Global Services T/A EMR Services for its work with insurers and credit hire operators.
The HOV Evaluate programme gives insurers lower credit hire pack costs, lower operational costs and better management information. Credit hire operators also benefit from improved cashflow by using the programme.
Chartis won the Mobile Innovation in Action category for an app that lets brokers quote and bind business with the insurer directly from their mobile phones.
The app, Extra, accommodates five SME insurance products, including professional indemnity, excess casualty and directors' and officers' liability. The insurer developed the app in response to the increasing use of smartphones by brokers.
LV= won the E Commerce in Action award for using video technology to increase direct sales of car insurance.
The vCommerce scheme lets users choose between clips of two presenters, who can talk them through motor insurance add-ons. The videos form part of the customer's payment journey on the LV= website.
LV= also made sure that the option for online chat between the customer and insurer staff was offered at the most critical stages of the quotation process to secure the most sales.
The award for Best Insurer/Broker Technology went to RSA for its Insight Online software.
The software lets RSA business managers make informed decisions by sharing information on competitors, markets and customers throughout the company, and was launched in April 2011.
The software is currently available to RSA staff in the executive team, marketing, e-commerce, operations, P&L, claims, underwriting, pricing, internal engagement and sales, business development and trading divisions. The Innovation in Insurance award was won by More Th>n, with DAS Legal Expenses winning the highly commended category.
"The judges gave the highly commended award to DAS for its impressive application of existing technology to improve customer service and conversion," Bennett said.
More Th>n won for the MARRS anti-fraud programme developed by the business team to help More Th>n cut costs and eventually cut premiums through detecting more fraud.
The system tackles fraud such as mid-term cancellations, fronting and data manipulation.
Finally, the Leadership in Technology award went to Lisa Gibbard of Aspen. Gibbard won for leading an IT overhaul at Aspen that has given the insurer a competitive edge and enabled it to give better service.
She also founded the Technology Innovation Group at Aspen to find the best ways to use the latest
technological inventions in the workplace.
Winners' reactions
Outstanding Business Partner
Winner: HOV Global Services T/A EMR Services
"We were thrilled when we were shortlisted: to win is an incredible bonus," assistant vice-president claims Tim Haskey said. "It is a testament to all the staff at Solihull, who have worked really hard over the past 12 months with our business partners to make a success of what we do."
Mobile Innovation in Action
Winner: Chartis
"We're looking forward to getting back to the office to share the award with the team," agency manager Amy Wilson said. "They will be very excited, because the whole company is behind us. We developed an app that was a first for a commercial insurer: it was also a first for us. We have always been innovative in products but we have never really embraced technology before. It is a big step forward for Chartis."
E Commerce in Action
Winner: LV=
Sponsored by SSP
"This award is a great reflection of all the things LV= is doing," group e-commerce director Paul Wishman said. "We're very proud and it is obviously great for the customers. Whether online or offline, customer service is absolutely paramount. We're the first to win this award, so whoever wins after this, it's nice to think that we were there at the beginning. We're shortlisted for the Insurance Times Awards in December, so fingers crossed we'll speak again then."
Leadership in Technology
Winner: Lisa Gibbard, Aspen
Sponsored by CSC
"I didn't tell anyone I was up for the award, but I will definitely be telling a few people tomorrow," group head of IT Lisa Gibbard said. "I would like to think I won because of the way I drive the business forward in terms of using technology to help colleagues do their jobs better. Too many people talk about IT as a support function. It will be great for everyone to see that Aspen is recognised for our thought leadership around our technology platform. It is an award for Aspen, not just me."

Newcomer of the year
Winner: Ingenin
"We are absolutely chuffed to have won. We are relieved as well. The past six months have been tough and full-on, as we only founded ourselves in early April," director Manjit Rana said. "We won the award by doing things differently. That is what Ingenin is all about: fresh thinking in a traditional industry. We've done consultancy for insurance companies, and we have also created some products that we have got the industry using, which is not bad for a company that is only six months old. We are so new, we don't even have an office because we are too busy working. We need to get an office now to put the award in."

Best Insurer/Broker Technology
Winner: RSA
Sponsored by TIA
"Our team isn't technology-based - we are more about customer insight and driving cultural change - but it's really great to be recognised for what we are doing," customer and market insight manager Caroline Ashley-Booth said. "We designed and built Insight Online, which brings together customer market intelligence into one place that the whole business can log onto. It helps RSA get hold of what is happening in the market, what brokers and customers are saying, what future trends are going to be, and competitor news. We're going to use this award as a real stamp of recognition."

Innovation in Insurance
Winner: More Th>n
Sponsored by Guidewire
"This shows that hard work pays off," online marketing manager Lorraine Clennell said. "It has always been at the forefront of our minds to make sure what we are doing can benefit from both the customer point of view and what is going to drive the business. We set up a live online chat service on a business product. If we can recognise that they are having difficulty, we invite them to have a live chat and help them. It helped to drive sales through the business and also to reduce costs.