Zurich commercial broker and claims services director Adrian Spencer talks about today's claims experience and the vital role of the broker in ensuring the right outcome for policyholders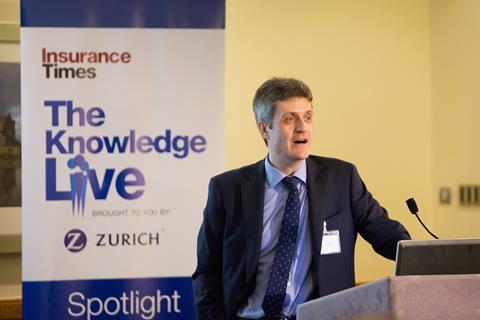 Customers purchase an insurance policy to protect themselves from losses as a result of an unexpected event. Ultimately what they are purchasing is a claims service that aims to restore them to the position they were in prior to the loss.
Today, the insurance industry delivers a better claims service than ever: new technology, highly trained staff and responsiveness to customer feedback are all contributing to better outcomes for customers, which at Zurich is at the heart of everything we do.
Right advice and product
Ensuring customers get the best outcome begins by providing them with a suitable product and the best advice.
That means protecting businesses from issues such as underinsurance and helping them to understand the risks of non-disclosure, which can lead to the customer not receiving the expected outcome.
For example, a manufacturer that, following a loss, needs to replace bespoke machinery with an 18-month lead time will be left underinsured if there's only six months' business interruption cover on the policy. Or if a company director has a previous conviction, an insurer might still cover the risk based on an extra premium or reduced claims settlement.
Clearly, these are not conversations customers, brokers or insurers want to have after a loss.
Our mission is to get companies back in business as fast and effi ciently as possible and a broker's guidance will help to get the right cover based on full disclosure of the facts.
Vital role of the broker
Although businesses are becoming increasingly complex, some still perceive insurance as a transactional purchase rather than a critical business decision requiring expert advice.
Rapidly growing businesses can sometimes overlook things that can result in being underinsured. This is where brokers play a vital role in helping customers understand the ramifications of underinsurance and explaining that insurance is about remaining in business when a crisis occurs.
During the claims process, brokers play a crucial part in helping customers prepare the claim itself and understand the options if something isn't covered.
Brokers can provide the 'translation' service between the business and all parties.
For example, confusion could arise in the lack of common language between a business owner and loss adjuster. The broker has better knowledge of a customer's business and can offer a different perspective in order to counteract any adversarial situations.
Delegated authority broker
A broker with delegated claims authority offers a great level of customer understanding and fl exibility of service.
But brokers need to ensure that there is suffi cient resource and expertise to cope with peaks in claims demand, as well as unusual and complex claims.
Insurers such as Zurich can support brokers by offering experienced claims experts in specialist teams, such as complex injury and major loss to support the delegated handling.
These teams are part of Zurich's simple and effective claims process, including specialist business claims teams, an end-to-end fi le ownership process and appointing experts to large and complex claims.
Our 'Rule of 3' claims principles are used by our hundreds of claims handlers to ensure consistent methods of moving the claim forward quickly, satisfying customers while taking ownership and accountability.
Positive customer outcome
Despite the progress and improvements made with claims handling, customers remain suspicious of insurance companies' declarations about service standards and what they mean in practice. For example, an insurer may keep its promise to answer a claims call within fi ve seconds, but can undo that success by failing to help customers, regardless of the speedy response time.
Claims is about helping customers, whatever the complexity. Communication is vital; articulating clearly at a time of crisis goes a long way to ensure a satisfied customer.
Customers do not want to be treated like a number in a vast process.
It is our responsibility to remove barriers and explain clearly what we are doing and why.
COMMERCIAL CLAIMS SURVEY
According to Zurich's most recently commissioned commercial claims survey, the company ranks top in seven out of nine claims areas, including ease of notifi cation, speed of claims settlement and knowledge/expertise of claims handlers. But the claims performance of rival insurers also surveyed has also improved. Percentage increase in insurers' mean scores in the two years since the previous survey range from 8% to 40%.
For the latest insights, practical expertise and to accumulate CII CPD learning hours, visit www.insider.zurich.co.uk and follow us on Twitter @ZurichInsider