Bruce Stevenson chief executive Edward Bruce told brokers at The Knowledge Live in Glasgow that they needed to embrace the claims process, while ensuring they still add value for their clients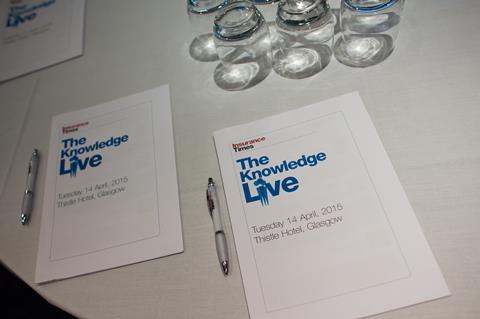 Brokers need to work with insurers to improve the claims process for the benefit of the policyholders, according to panellists at The Knowledge Live – Spotlight on Claims.
Speaking on the panel at the event in Glasgow, Bruce Stevenson chief executive Edward Bruce said brokers needed to embrace the claims process if their businesses are to prosper in the future.
"From a broker perspective, [the claims function] is absolutely vital to our future success [as brokers]," he said. "I'm a big advocate of where insurance broking is going, particularly the traditional and regional broker. But we have to be adding value on claims when they come in.
"The customer has got to know what they can expect from us, have that clearly communicated and have a service delivered for them. However, if in certain claims we can't add value we have to get out of the way and not just act as a post box."
Zurich regional claims manager and fellow panellist Vicki MacIver said that an increasing involvement of brokers in the claims process would create an opportunity for insurers to work more closely with brokers.
"This will be an opportunity for us as insurers and you as brokers to work more closely together," she said. "It has been very much them and us in the past, and this is an opportunity for us, for the right customers and the right accounts, to work together for the benefits of the policyholder."
The pair were speaking after a live poll of brokers at the event revealed broker involvement in the claims process had increased over the last 12 months.
When surveyed, almost two-thirds of delegates said their claims involvement had increased over the past year, with none saying it had decreased over the same period (see below).
Join the debate at our Insurance Times Claims Forum on LinkedIn