In the modern world of complex supply chains, traditional business interruption insurance is no longer enough. While insurers are starting to provide more sophisticated products, take-up remains slow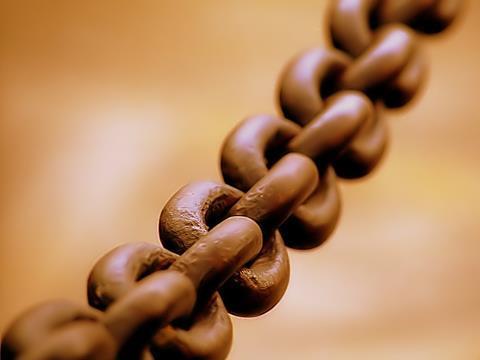 At a time when supply chain disruption is becoming a more common occurrence for many businesses, much of the risk is uninsured. From suppliers' extensions to contingent business interruption, insurers are coming up with innovative products for supply chain risk, but take-up remains low.
When large corporates suffered operational disruption because of the 2010 Icelandic volcanic ash cloud, risk managers' association Airmic notes there was "considerable surprise and disappointment that conventional business interruption (BI) insurance policies did not provide adequate cover".
Many insurance buyers were under the impression that they were covered by extensions to their traditional BI covers that would reimburse them for loss of business related to material damage at a supplier's or co-contracting client's premises.
But in cases such as the ash cloud, where the interruption was not a direct result of physical damage, but rather the failure of transport networks, extensions were not triggered.
Former Business Continuity Institute technical director Lyndon Bird says: "If you've got your premises covered against fire or floods you could possibly get extended cover for fire or floods of key suppliers. But you couldn't really insure yourself against the supplier going out of business. You could really only insure against the supplier having the same physical perils.
"When we looked at the reasons why people have interruption, yes suppliers are subject to the same things that can go wrong as you are, but there are additional things that can relate to the overall viability of a supplier."
An outdated solution
The crux of the problem is that traditional property damage BI insurance was never designed for modern realities, says Marsh Global Business Interruption Centre of Excellence leader Caroline Woolley.
"It is based on traditional manufacturing firms in single locations. This suppliers' extension clause is quite often for direct suppliers only – so only the first tier – and it's only damage-related incidents."
A suppliers extension to a traditional property damage BI policy does "what it says on the tin", Polestar UK Print group risk manager Gary Marshall agrees. "It's property damage in whatever form that is covered. Sometimes it's limited perils and it goes into everything, and is subject to limits and additional clauses, some of which will be agreed upfront to make sure that it isn't an open-ended cheque."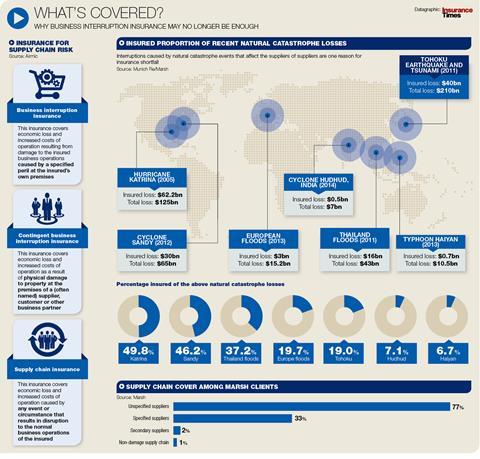 Click here for a larger version
Insurers are designing products more specifically tailored to match the risk profile of global supply chains. Because capacity is growing, the price has come down and cover is becoming broader. But there is still some way to go.
In most cases a payout is triggered by named perils, but the next step is a product that covers all suppliers against all risks. "Business interruption is anything that can interrupt business," Woolley says.
"We need to get the different underwriting teams to work together, because our clients just see business interruption risk. That's what our clients and risk managers are calling for."
Fit for purpose?
While solutions are available, so far take-up remains relatively low. One reason is the depth of information typically requested by underwriters.
Another factor is uncertainty over whether such products are fit for purpose. Until there is broader take-up, it will take time for supply chain insurance to be properly tested.
Join the debate in our new LinkedIn specialist discussion forums