Three years on since its last big interview with Insurance Times, has the LV= top team made good on its promises?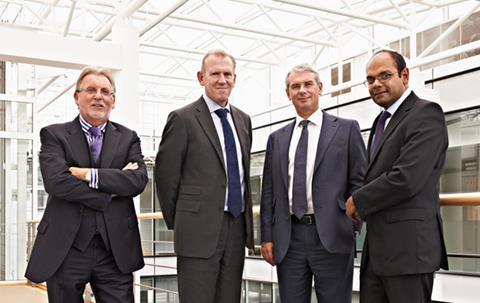 There's a slight sense of déjà vu when the top team at LV='s general insurance business come strolling into the boardroom. But there's something missing.
It's been three years since GI managing director John O'Roarke and his executive team appeared on the cover of Insurance Times, posing in that well-known scene from the film Reservoir Dogs which got the market talking.
However, this time around there are no dark suits and sunglasses outside of an office block in Croydon. Insurance Times has returned to find out if the business has hit its targets and where it is heading. You could say it's LV= MK II: the grown-up version. But it's soon made clear they're still up for a laugh.
"There's no homogeneity amongst this team at all; we are a bunch of misfits," quips O'Roarke as his three senior executves - GI chief operating officer Peter Horton, broker managing director Phil Bunker, and direct managing director Selwyn Fernandes - all fall into laughter.
O'Roarke is, of course, referring to the "complementary skillset" of each of his team. It's been almost six years since the former Royal Bank of Scotland Insurance (RBSI), now Direct Line Group, team rolled into the mutual to revitalise its fallen GI division in what he describes as a "unique coming together" and something that could not be replicated again. "There was an unprecedented number of people available in the market at that time," he says, of course referring to fallout at RBSI, but more on this later.
The end of the beginning
The team is in a chirpy mood at its offices on Cheapside in the city and O'Roarke, who does most of the talking, is keen to boast about LV='s growth in the GI market. "We set out a plan to become a major force in the market and achieve a certain level of profitability. We're looking right at the profit number for the end of the year," he says, without stating specifics.
In its results for the first half of 2012, reported last month, LV='s GI business saw its pre-tax profits rise to £53m (H1 2011: £52m), buoyed by success in the personal lines market. Its growth since 2007 has been rapid, with gross written premium rising from £347m to £1.45bn at the end of 2011 and its combined operating ratio improving to 97.7% from 121.5% during the same period.
"We have reached the end of the beginning, and we have built a big business," a confident O'Roarke proclaims. "We've got the scale now and a set of assets which mean we're able to defend what we've got."
When asked what the secret's been to their success, all eyes point to O'Roarke. "We are extremely fair with customers, which goes against an expectation of unfairness in our industry," he answers, revealing the company recently decided that customers who declare accidents but pay for the damage themselves won't see their premiums affected at renewal.
What we've been able to do, where other competitors haven't, is grow and maintain profitability"

Selwyn Ferandes, LV=
It's in motor where LV= has claimed its biggest scalp. It acquired Highway in 2008 and targeted a position among the top five motor insurers by this year. So how has it faired? At the half-year stage it had 11% of the private motor market, still a considerable distance behind DLG and Admiral, but about third equal with Ageas on motor policies in force, O'Roarke claims, which currently stand at around 2.8 million.
It's this kind of impact that has prompted murmurs in the market that LV='s pricing was unsustainable. That's something O'Roarke refuses to give credence. He says the insurer has invested heavily in people with core skills in pricing and risk selection. "We've only been cheap for the business we want to write. We've actually been pretty expensive for the business that we didn't want to write."
LV='s direct personal lines business posted a 19% jump in premiums to £417m in the first half of 2012. Growing heavily in direct motor has proven to be dangerous for some insurers, such as AXA-owned Swiftcover, largely down to the rising bodily injury claims trend. "What we've been able to do where other competitors haven't, is grow and maintain profitability," Fernandes chips in. "The market took its eye off the ball, it was in disarray. It wasn't on top of its personal injury costs or risk selection. We were ready for that disruption, and while the market was in confusion we were taking volume."
After urgent cleansing action, AXA's UK direct book saw premiums drop 29% in the first six months of 2012. "We were looking at [Swiftcover's] pricing and seeing it was cheap everywhere and thinking, 'how can that be?'" Fernandes adds.
Growing in commercial
The real ambition for LV= now lies in its commercial broker business. It has built a steady branch network in 10 locations and posted a 14% hike in commercial broker premiums to £80m last month. Bunker harbours ambitions of a £1bn broker business split equally between commercial SME and personal lines.
O'Roarke is equally keen for the commercial side to pick up, and is targeting 10% annual growth in SME business compared to 3% in personal motor, but insists rates must rise at least 20% before the market can turn a profit. He says LV= has increased commercial rates almost 8% this year and is not frightened of adding volume in the soft market while others sit back.
"If you choose to grow the business only when it is very profitable it is too late," he warns. Growth in commercial might also come via an acquisition, but O'Roarke says the group's immediate priority is to redress the balance in the life side. "If we had sufficient capital, then it would make sense for us to look at some bolt-on acquisitions on the SME side."
The former RBSI chief operating officer also has Solvency II on his radar. The mutual will submit a joint application for the life and GI arms by the January 2014 deadline and O'Roarke estimates the insurer will have spent £2.5m on the process.
One event the LV= boys are all anticipating is RBS's disposal of Direct Line. Recent reports claim the bank has now firmly settled on an initial public offering, with the first listing set to be staged sometime this month. O'Roarke thinks if it is successful it could have a positive influence on pricing in the market.
Three years ago 150 staff had made the switch from RBSI to LV=. That figure, according to O'Roarke, has now increased four-fold to 600, with LV= opening up new floors in its Leeds and Ipswich offices to accommodate new staff. "We could send them a thank you message," quips Horton. Some things never change.

Snapshot:
John O'Roarke
Age: 54
Hometown: Barnsley, Yorkshire
Family: Married with three children
Interests: Music and motorsports
Peter Horton
Age: 57
Hometown: Manchester
Family: Married with five children
Interests: Cinema, table tennis and socialising
Phil Bunker
Age: 50
Hometown: Hastings
Family: Married with two sons and two daughters
Interests: Golf, hockey, Manchester City
Selwyn Fernandes
Age: 48
Hometown: Croydon
Family: Married with two daughters
Interests: Watching Chelsea, hill walking and overseas travel